11 killed in attack on police post
4 cops kidnapped, arms looted
Tribune News Service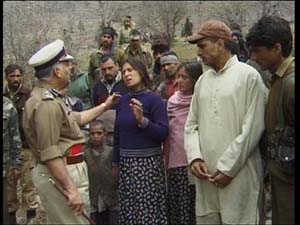 J&K DGP A.K. Suri meets family members of the police post attack victims.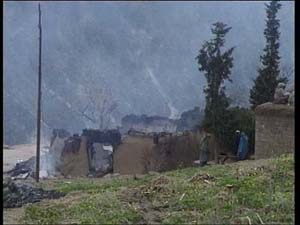 The police post that was set ablaze in a rocket attack.— Photos by Sarbjeet Singh
Jammu, March 16
In a mid-night attack, terrorists attacked police post with rockets at Ind village of the Gool area of Udhampur, killing 11 persons, including nine police personnel.
Four police personnel have been kidnapped and the stock of arms and ammunition has been taken away.
The police post was destroyed completely in the attack which was followed by an encounter between the security forces and the terrorists that continued for over two hours.
It is suspected that the terrorists are using the kidnapped policemen to carry the looted arms and ammunition.
The police said a group of about 15 to 20 terrorists armed with sophisticated rocket launchers and other arms stormed the police post. They also lobbed grenades and killed nine policemen and two members of the village defence committee (VDC) on the spot.
Eight policemen and a civilian were wounded in the attack. Among the injured are a woman and a child. The injured have been airlifted to the medical college here and the district hospital at Udhampur.
It is learnt that the Al-Badar, Harkat-ul-Jehad Islam and Hizbul Mujaheedin have claimed responsibility for the attack.
Among the killed policemen are Khurshid Ahmed, Farid Ahmed, Angrez Singh, Shaukat Ali, Sher Singh, Shadi Lal and Mohammad Iqbal. The bodies of two SPOs have not been identified so far. The two VDC members killed in the attack are Bashir Ahmed and Mohammad Altaf.
Those kidnapped have been identified as Nissar Ahmed, Manzoor Ahmed, Jan Mohammad and Sher Mohammad.
The security forces have been rushed to the area and a massive combing operation has been launched.
Meanwhile, the Chief Minister, Mufti Mohammad Sayeed, condemned the incident and said the enemy within and across the border had stepped up its plan to derail the peace initiative. He reiterated his government resolve to deal with terrorists an iron hand.
He visited the family of Manjit Singh, DSP, who was among those killed in an encounter with the terrorists in Poonch on Friday.