THE TRIBUNE MAGAZINES
On alternate Mondays

On Sundays
On Saturdays
Bhattal's function draws crowd
Several MLAs, ministers not seen
Dhanaula, March 16
In an impressive show of her ability to mobilise masses, Agriculture Minister Rajinder Kaur Bhattal today promised to get martyrs and freedom fighters their due after felicitating kin of 15 national heroes at a "shradhanjali samaroh" here this afternoon.

Mrs Mohsina Kidwai, General Secretary, AICC, (right), discusses a point with Mr Kultar Singh, younger brother of Shaheed Bhagat Singh, and Mrs Rajinder Kaur Bhattal during the 'Desh Bhagat shardhanjali samaroh' at Dhanaula village in Sangrur district on Sunday. — Tribune photo Pankaj Sharma
Namdhari to go ahead with session today
Ranchi, March 16
Brushing aside talk of a constitutional crisis, rebel Jharkhand assembly Speaker Inder Singh Namdhari today decided to go ahead with the session of the House tomorrow for a trial of strength for beleaguered Chief Minister Babulal Marandi who was closeted with his ministers and party leaders to finalise a strategy.
Free power not possible, says Amarinder
Patiala, March 16
The Punjab Chief Minister, Capt Amarinder Singh, today said it was not possible to extend the facility of free power for tubewell operations to farmers of the state, even as the indefinite dharna organised by farmers on the Mall Road opposite the Punjab State Electricity Board (PSEB) office here folded up following an assurance by Finance Minister Lal Singh.


23 Punjab youths rescued from Thai
drug mafia
Chandigarh, March 16
As many as 23 Punjab youths have been rescued from the drug mafia functioning in tandem with travel agents from India, especially Punjab, in Thailand. Most of them were allegedly being used as drug-traffickers. Besides Punjab, there are several youths from Pakistan, Bangladesh, Sri Lanka in the captivity of the mafia, it is learnt.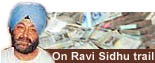 Excavation leads to mosque floor
March 16, 2003
Gujarat tense; 10 hurt in Muharram violence
March 15, 2003
SC: poll reforms law unconstitutional
March 14, 2003
PM against war without UN nod
March 13, 2003
Jaswant rolls back urea price hike
March 12, 2003
5 more join Punjab Ministry
March 11, 2003
Cong victorious in civic poll
March 10, 2003
ULFA ultras bomb Digboi Refinery
March 9, 2003
Women's Reservation Bill in current session
March 8, 2003
SC reserves verdict on Ayodhya
March 7, 2003
Sonia clears HP Cabinet
March 6, 2003
Virbhadra to be CM
March 5, 2003