Sunday, March 16, 2003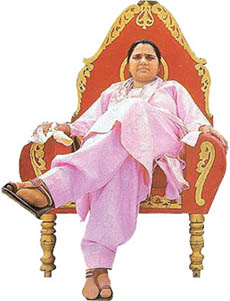 THE airing of the tape in which UP Chief Minister Mayawati asked her party leaders to divert development funds to the party kitty has opened a pandora's box in the state, with allegations of gross corruption flying thick and fast. It is alleged that every posting was auctioned to the highest bidder.
V. J. Bandopadhaya reports from Lucknow.
A paradise on earth called Maui
Harsharan Singh Sandhu
WHILE sojourning in the beautiful valley of Kashmir, the Mughal emperor Jahangir remarked: "Firdass Gar Bar-Roae Zamin Ast, Amin Ast, Amin Ast" (If there is paradise on earth, it is here, it here). But given the present means of communication and travelling, people are searching for more such paradises. Nearer home, we find that the backwater area in Kerala also fits the bill.
'Museum Friends': Novel way to learn
Vikrant Bhasin
INDIAN tourists are never known to be great museum hoppers. Even locals would generally spend their Sundays with the family at the cinemas, amusement parks, shopping malls or wining and dining.... rather than visit the city museum.
Lessons from life
The two wolves
THERE was a grandfather, and his little grandson often came in the evenings to sit at his knee and ask the many questions that children ask. One day the grandson came to his grandfather with a look of anger on his face. Grandfather said, "Come, sit. Tell me what has happened today."