The play-it-safe policy of the Academy is likely to go to his advantage this time. Two-time loser Roman Polanski, whose The Pianist has won several big awards in Europe, might miss out at the Oscars due to the resurfacing of the infamous child rape case that made him flee the USA over two decades ago.


Jack Nicholson in About Schmid
Among the haves, a prominent name is Jack Nicholson, the perennial favourite of the Academy members. He has already won three Oscars — best actor for One Flew Over the Cuckoo's Nest and As Good As It Gets and best supporting actor for Terms of Endearment — and is in line for another. His role of a loser in About Schmidt has won him a Golden Globe, an award which often translates into Oscar success. If he does it again, he will join Katherine Hepburn at the top with a record four awards.
Giving him stiff competition will be Michael Caine, who is himself looking for his third Oscar. The Academy might have given British actors like O'Toole and Richard Burton a raw deal, but it has been kind to Caine. Best supporting actor awards for Hannah and her Sisters and The Cider House Rules, and now a best actor nomination for The Quiet American. Two other nominees, Nicolas Cage and Daniel Day Lewis, are also past winners, while Adrien "Pianist" Brody is the dark horse, thus making it a strong field.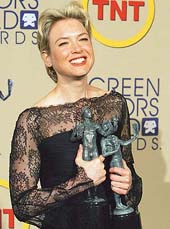 Renee Zellweger: Banking upon Chicago
In the Best Actress category, there might be a first-time winner. Having bagged the Bafta and Golden Globe awards for playing writer Virginia Woolf in The Hours, Nicole Kidman is expected to literally nose ahead of the others. It will be adequate compensation for last year's disappointment, when she lost to Halle Berry despite an inspired performance in Moulin Rouge. Not to be counted out is Renee Zellweger, who will be hoping that Chicago does for her what Bridget Jones's Diary could not.
For Indian viewers, this year's awards ceremony will be quite unlike the previous one. Lagaan raised our hopes sky-high, the entire nation waited with bated breath to hear its name being announced, but it was not to be. There will be no such drama this time as Devdas has been unfairly left out. No less disappointing has been the omission of the British entry, London-born-and-bred Gujarati Asif Kapadia's much acclaimed The Warrior, starring our own Irfan Khan.
Despite the outcome, it must be said that at least we did a sensible thing by sending one of the year's best films. Unfortunately, many undeserving movies have been entered for the Oscars, like the atrocious Jeans, only to be torn to shreds by the competition. If only the good ones are sent consistently, backed by aggressive publicity (and lobbying), it is not unlikely that one fine Oscar night, Indian cinema will shed its have-not tag. Meanwhile, the wait goes on...