Sunday, March 23, 2003

Television
Talking about wealth and its woes, too!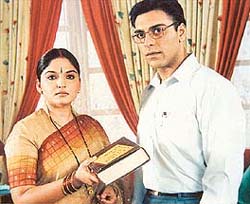 A scene from Kabhi Aaye Na Judaai
IT's all about money, honey! Yes, Kabhi Aaye Na Judaai, telecast on Mondays through Thursdays, at 3.30 p.m. on Star Plus, revolves around the theme of temptation and greed and how it can destroy happiness and peace of those who are obsessed with it.
It is about Rajeshwar Oberoi, a college principal and his wife of 25 years, Radhika and their blissfully happy family. But fate moves in mysterious ways. Radhika's rich father had cut off his ties with her after she married Rajeshwar. But before dying, the old man leaves her his entire wealth to the family.
The sudden inheritance changes the fortune as well as the lifestyle of this simple family. Rajeshwar's children see doors to their dreams and aspirations opening up with their abundant wealth. The unexpected windfall completely blinds them, snatching them away from their simple existence. Money takes over relationships, love and bonding.
Will the Oberoi family members ever come together and live the life they used to? Can they fight the temptation of money, which has torn them apart? The engrossing family drama by Deepti Bhatnagar is garnering high TRPs thanks to a loyal afternoon viewership.
Superstar mom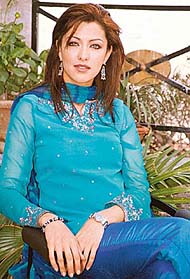 Aditi: One-way ticket to stardom
Her doleful green eyes could be the envy of any young lady. The mother of a three-year-old daughter she's — hold your breath — a qualified gynaecologist, a top modem, an actress, a supermom and the first Indian woman to win the Mrs World title.
Meet Aditi Govitrikar Chances are you've already met her or at least seen her in films like Soch, December 16, Baaz and Dhund-The Fog. Now the lady is being pursued by serial makers as well and is considering a mega TV soap.
Indeed, Aditi Govitrikar has been a busy lady ever since she won the Mrs India Gladrags Mega Model contest in 1997 and followed it up with the Mrs World title in 2001. Apart from films, she's been seen on the small screen in Govinda's and Adnan Sami's music videos and in various ads including the famous Coke campaign with Hrithik Roshan.
Though she is still tight-lipped about it, gossip has it that she's negotiating something with Ekta Kapoor. But the former Mrs World is in no hurry to grab whatever comes her way. She says she has three priorities — the script, the co-star and the director (not necessarily in that order). So Ekta will have to make an offer Aditi can't refuse!
Daily dose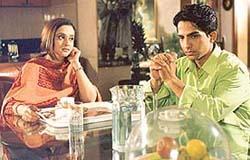 Zindagi...Teri Meri Kahani: Not a weekly affair any more.
A child caught up in the upheaval of breaking and mending relationships and a woman with an attitude. That sums up the saga of Zindagi...Terri Meri Kahani on Sahara. It is hard to fathom why it has changed into a daily soap from a weekly one.
From being aired every Friday at 8.30 pm it has now been upgraded to a daily soap — Monday to Friday at 9 pm. Has the move been prompted by popular demand or is it a clever ruse to fill in time? The latter seems more likely as Sahara is yet to garner the kind of committed viewership that influences channel decisions.
However, the change has not gonedown too well with those watching the absorbing serial revolving around a deeply ambitious woman who is unable to compromise with her aspirations leading to a clash with her family.
So far the soap had been distinct from the run-of-the-mill family dramas. Many upwardly mobile people living in big cities could identify with the very contemporary theme set in the urban milieu. However, with the change of pace, many feel that it would not just lose its appeal but could start meandering. When a script meanders, so do viewers!
Kabir's new script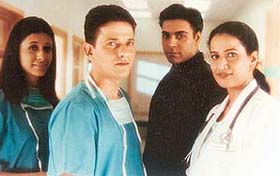 Kabir (in blue) as Dr Rizwan in Dhadkan: A much-in-demand star.
Remember the fresh-faced Dr Rizwan in Dhadkan or Gautam Sahni in Virasat. Very few TV viewers would forget the characters Kabir Sadanand has played.
Such is his style that the young man has already built a passionate female fan following. Not surprisingly he is one of the busiest new generation TV stars. But not for long! He would now also like to be a very busy star in Bollywood as well. And going by his current assignments that day doesn't seem too far.
Kabir, who made his debut in Lekh Tandon's Daraar on Zee TV, became a popular face with Family No 1 on Sony. Then followed Dhadkan. "That is still the best character I've ever played," says Kabir who now has leading roles in three currently-on soaps — Shagun on Star Plus, Kabhi Biwi Kabhi Jasoos on Sony and Viraasat on Sahara.
But the more interesting news is he is making his Bollywood debut in Charas. He's also signed three more films, Mumbai Matinee, Joggers Park and 24 Hours-Ek Din where he plays an assassin along with Rahul Bose and Nandita Das.
"I don't know how long I can sustain both serials and films," says Kabir. But if push comes to shove his choice is obvious — Hindi cinema.
Brother, what a family!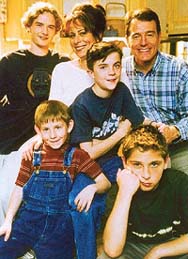 Malcolm In the Middle:
Family time
Unconventional ..maybe. Dysfunctional.. just a little. Real...absolutely. Malcolm In The Middle Every Sunday at 5 P.m. is about a middle-class family of four squabbling brothers and their parents, who are trying to "hold on until the last one turns 18!"
This comical and emotional journey is led by middle child Malcolm (Fankie Muniz), a regular kid despite an extraordinary IQ of 165. This inventive family comedy is seen through the eyes of malcolm, a normal kid who is perfectly content skateboarding, rough-housing with his brothers and avoiding the school bully. He has even managed to accept — okay ignore — his parents' penchant for running around the house in the nude.
Malcolm's world is suddenly turned upside down when it's discovered he has a genius IQ. He is forced into the "gifted" class where he finds himself surrounded by a group of exceptionally bright social misfits. A hilarious sitcom that will have you laughing from the word go.
Changing track
National Geographic Channel is learning from experience and has started emulating much of Discovery's programming.
Though it's choice may still not be as eclectic, and it may still not have real-life thrillers like New Detectives and Medical Mysteries the channel is broadening its range to incorporate other stuff than just wildlife and life under sea.
Take, for example Building Big aired on March 15 at 7 p.m. The show explored the world's great bridges, how they work and why they sometimes don't. How were they built and how do they stay standing. If you missed that take a look at King of the arctic on Sunday March 24, at 6 pm. Here you'd meet Chennai-born Bezal Jesudason who left the equator for the North Pole to live among the Inuit people.
Travelling from one climatic extreme to another, Bezal left Chennai and carved out a new life for himself among the indigenous people, guiding explorers to the North Pole. Finding comfort in the culture of the Inuit through their hunting rituals and communal life, watch as this man's unique life story unfolds. A refreshing change from round-the-clock jungle and underwater programming.
— Mukesh Khosla