Tuesday, March 25, 2003, Chandigarh, India



B U S I N E S S

HOPES FOR A SHORT WAR FADE
Punjab garment exporters feel war heat
Chandigarh, March 24
Garment exporters of the region are closely watching the Iraq war apprehending that any delay in the victory over Saddam Hussein will severely hit their bottomlines. The industry is already facing a substantial fall in orders from America and Latin American countries due to war as buyers are deferring their purchasing decisions.
IT business in Gulf not hit
New Delhi, March 24
Many Indian software development and services majors say they are carrying on with their business in West Asia despite the US-led military operations in Iraq that entered its fifth day on Monday.
. . . but craze for gold continues
New Delhi, March 24
As war bells ring, gold becomes the first casualty worldwide. But in India, where jewellery is a way of life, experts say there is never any let down in buying gold: only the preferences of Indian women change -from heavy to light weight jewellery.
'Invader' invades the market
Mumbai, March 24
Mahindra and Mahindra introduced a new jeep called Invader at a function here today. It will replace the famous Classic model and will be available in the four metropolitan cities, besides Chandigarh and Jaipur, from mid-April, 2003.
Kotak Mahindra now a bank
Mumbai, March 24
Kotak Mahindra today announced its conversion to Kotak Mahindra Bank Ltd. With this, Kotak Mahindra has acquired the distinction of becoming the first Indian company to convert into a bank.


| | | |
| --- | --- | --- |
| | ROUND-UP | |
Petro prices may fall: Ram Naik
Mumbai, March 24
Ram Naik said today the prices of the petroleum products might come down if the crude oil price in the international market remains constant or falls further in the next 10 to 12 days.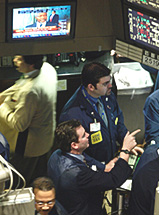 Specialists work on the floor of the New York Stock Exchange under a television news report showing United Nations Secretary General Kofi Annan on Monday. Stocks fell sharply at the open as investors reconsidered optimism the US-led assault on Iraq would quickly topple Saddam Hussein's regime. In morning trade the Dow Jones industrial average was down 235 points at 8,286. — Reuters
More cuts in AC, PC prices expected
March 24, 2003
Punjab not to implement VAT
March 23, 2003
Infrastructure growth rate dips to 3.9%
March 22, 2003
War raises air fares, hits jobs
March 21, 2003
A long war can jolt economy
March 19, 2003
Investors rush for safety as Iraq war nears
March 18, 2003
Housing sector needs reforms
March 17, 2003
Proposals to yield quick returns: FM
March 16, 2003
PM asks KVIC to pay taxes on products
March 15, 2003