M A I N N E W S
Prithvi testfired successfully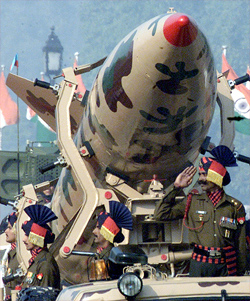 The Indian Army displays the Prithvi missile on a transporter during a full dress rehearsal for the Republic Day celebrations in New Delhi in this January 23, 2001, file photo. — Reuters photo
Balasore (Orissa), March 26
India today successfully test-fired its short-range missile 'Prithvi', capable of carrying nuclear weapons, from the test range at Chandipur-on-Sea near here as part of user trials by the Army.
The surface-to-surface missile, which has strike ranges varying from 150 km to 250 km, had a perfect lift off from a mobile launcher at about 11.30 a.m., Integrated Test Range (ITR) sources said.
Today's trial was also part of the Defence Research and Development Organisation's continuing efforts to improve the country's missile defence system.
The mission objectives of the trial had been fully achieved, they said, describing the test firing as user trial by the Army. Prithvi can carry nuclear weapons.
The DRDO had so far conducted 16 trials of the Army version of the missile since its first trial on February 22, 1988, from Sriharikota in Andhra Pradesh. PTI