THE TRIBUNE MAGAZINES
On alternate Mondays

On Sundays
On Saturdays
IN PASSING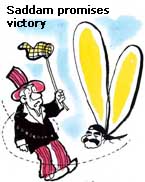 by Sandeep Joshi
Militants blow up oil tanker; 1 dead
Jammu, March 26
One person was killed and seven others were wounded when a petrol tanker in which terrorists are suspected to have planted an explosive device exploded just outside the main oil depot of the Indian Oil here early this morning.

In video (28k, 56k)
A policeman inspects the wreckage of an oil tanker blown up in Jammu on Wednesday morning. An explosive device planted in the tanker by militants was said to be the cause behind the incident.
— PTI photo

No additional time for excavation: HC
Lucknow, March 26
The Lucknow Bench of the Allahabad High Court today refused to give additional time to the archaeologists carrying out excavation in Ayodhya to ascertain whether a temple existed at the site where mosque was built in the 16th century.


VHP's 'satyagraha' from today

Prithvi testfired successfully


Balasore (Orissa), March 26
India today successfully test-fired its short-range missile 'Prithvi', capable of carrying nuclear weapons, from the test range at Chandipur-on-Sea near here as part of user trials by the Army.


World page: Pak test-fires Abdali missile


Haryana to implement VAT partially
Chandigarh, March 26
The Haryana Government has decided to partially implement the controversial value-added tax from April 1. It has decided to retain the same rate of general sales tax as levied under the General Sales Tax Act till VAT is implemented in Delhi which is likely to implement VAT in July.


Editorial: Demystify VAT

NCR page: VAT: A mire of confusion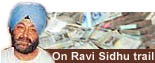 Advani sees Pak hand in massacre
March 26, 2003

Militants massacre 24 in Kashmir
March 25, 2003
Allies zero in on Baghdad
March 24, 2003

Basra, Nasiriyah fall to allies
March 23, 2003

US, UK troops push on to Basra
March 22, 2003
US WAR ON IRAQ HAS BEGUN
March 21, 2003
Saddam put on 48-hour notice
March 19, 2003
War clouds thicken; USA, UK shed diplomacy
March 18, 2003
11 killed in attack on police post
March 17, 2003
Excavation leads to mosque floor
March 16, 2003
Gujarat tense; 10 hurt in Muharram violence
March 15, 2003