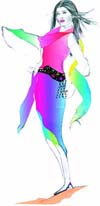 This is what you'll wear this summer
Sheena Gilhotra
"THE mood is upbeat and optimistic with a strong return to kaleidoscopic colours, bold patterns and decorative fabrications marking a new confidence that looks set to underpin the season," says Textile View, a fashion forecast magazine. This is clearly in response to the marked downturn of economy and fears of terrorism. People are looking towards optimism through colours and fabric this season. Fashion, as usually perceived, is not something to be watched and followed like a shadow. It amazingly evolves on its own; stemming from one's experience over a span of time.
Smile is a laugh in whisper!
I.M. Soni
WHEN you are down in the dumps, smile. You protest: how can this be possible. It is possible. And see the results. When I feel the need to uplift my mood, I smile. Then I get so busy watching the reaction of others that I forget what had pulled me down in the first place.
FOND REMEMBRANCE
It's difficult to dilute the tradition of IITs
Dharam Vir
AS my train pulled into the familiar Kharagpur railway station recently, I was instantly teleported into the world of a 20- year- old lad, who had left the portals of the Indian Institute of Technology located here about 33 years ago to spread his wings.
ZEROING IN ON...
The aging yet tireless environmental crusader
Ravi Bali
SHE is a small woman who took on the big and the mighty. She is frail and aged but she has set her sights on the hurculean task of creating a healthy environment for generations to come.
MAKING A MARK
The queen of remixes
Dharam Pal
VAISHALI Samant, who has been working hard to make her mark in the music industry, has been noticed at last with her debut album Aika Dajiba, released by Mumbai-based music company Sagarika. This album, especially the title song Aika Dajiba that was created by fusing Marathi folk music with western beats and rap, has got a good response, says Vaishali.