Sunday, March 23, 2003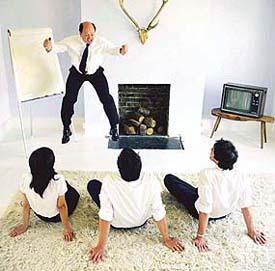 Time spent on motivating staff with incentives would be better used to boost job satisfaction, writes Simon Caulkin.

THE first law of management is that simple is best. But as so often, there's a snag. ' Simple ' is not the same as 'easy'. Management is about making judgments. 'Making decisions is what we pay people—everyone—for,' says management sage Elliott Jaques, and judgments are often hard, no matter what 'solutions providers' promise. They're contingent, dependent on people, and can't be reduced to formulas.

Bringing up kids brightly
The latest bright idea on childcare is to use management techniques on your kids. Kate Kellaway tries it out at home.
LOOKING after my first baby was like running a hotel. I remember checking on the customer, leaning over his Moses basket. Is everything all right, sir? It wasn't, usually, and there were furious tears when service was not up to scratch. I knew then what it was to be management. Or mismanagement.
Portrait of a photographer as an artist
Gitanjali Sharma
HERE'S a snapshot of the man behind the lens. He's all of 21, has eight solo photo exhibitions behind him, and a couple of awards under his belt — the most recent being the Punjab State Award for extraordinary work in photography. The award, given to him on February 27, carries a citation and a cash prize of Rs 1 lakh.
Celebrating dance as affirmation of life
Indu Bala Singh
TO probe into the life of the non-conformist dancer Chandralekha — the danseuse mathematician, writer and choreographer — is like renewing the sources of resistance. Having been brought up in a conventional traditional family, Chandralekha could stand up for herself and be defiant.
Lessons from life
Love goes around
HE was driving home one evening, on a two-lane country road. Work, in this small Midwestern community, was almost as slow as his beat-up Pontiac. But he never quit looking. Ever since the factory closed, he'd been unemployed, and with winter raging on, the chill had finally hit home.