Godly choices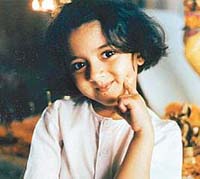 Kanhaiya: Zee turns
religious yet again
It's re-organising time once again at Zee. Ever since ratings of Sakshi Tanwar's Gurukul and Deepti Bhatnagar's Yatra started scaling up the charts on Star Plus, there have been worry lines on the furrows of Zee officials.
And now they have come up with a counter plan — to air two religious programmes of their own. While Kanhaiya is on air, a spiritual show, Oorjaa is soon going to be beamed.
Now, viewers are swamped with an array of Godly choices. Star Plus leads the race with three religious shows every Sunday morning. Starting 8 a.m. is Gurukul packed with tales from Vedas and Gita. An hour later there's Jai Mata Ki starring Hema Malini and then comes Deepti Bhatnagar's Yatra, a devotional journey through India's pilgrimages.
Sony is not far behind with Shree Ganesh at 8.30 a.m. and Mahabharat at 9.30 a.m. Now Zee has Kanhaiya at 9.30 a.m. and Oorjaa too is slotted for Sunday morning primetime.
Indian viewers who have demonstrated an insatiable appetite for religious serials are being spoilt with choices. And why not? What with 30 million Gods and Goddesses of which at least 100 cut across language barriers, one can't really go wrong!
Comic-book hero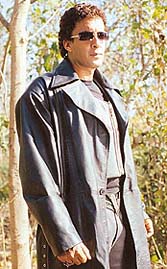 Mamik in Ssshhh...Koi Hai: Recognition at last
Remember him as Aamir Khan's caring elder brother in Jo Jeeta Wohi Sikandar? Yes, most of us do and many have wondered where the fresh-faced young man disappeared for a decade only to reappear as Priety Zinta's brother in Kundan Shah's Kya Kehna.
The news is good. Though Mamik may not have struck gold in Bollywood, he's doing reasonably well on TV. After cameos in serials like Sadma, Yug, Chandrakanta and Maal Hai To Taal Hai, he has a hit with Ssshhh... Koi Hai on Star Plus.
In fact, Vikraal, the character he plays, has become such a comicbook hero with viewers that the serial has got unlimited extension from the channel. Like Shaktimaan, the feats of Vikraal too are thrilling as he is on a mission to rid Planet Earth of all evil.
Star TV is so upbeat about Mamik's abilities that it's planning a film on Vikraal. Says the star, "Once that materializes I'll not have to go from studio to studio looking for work. Film-makers will hopefully come to me. And about time too considering the prodigious talent of the not-so-young man now!
Ready for war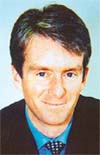 Nic Robertson: War is news to him
At the CNN headquarters in Atlanta he is called the man of war — a sobriquet Nic Robertson has carried for over a decade. Simply because no one covers war like he does.
In 1991 Robertson made possible CNN's broadcasts from Baghdad as missiles descended on the Iraqi capital. In the intervening years he has reported from Bosnia and Afghanistan and given an insight into workings of Al Qaeda in Terror on Tape series.
With war clouds looming over Iraq all over again, Robertson is back in Baghdad. He says conditions have now changed. "Back then we did one story a day, at least in the build up to the war. Now we do live broadcasts virtually every hour and late into the night." While the Iraqis, says Robertson, are as hospitable as ever, they seem more resigned, frustrated and fatalistic about what is happening. And they are poorer now, hospitals and schools have no money.
He says he worries about the innocent people who could lose their lives in the event of war. "I have seen too many people lose loved ones to war, have seen too much devastation — emotional and physical — to look forward to covering it again." But then, wars have to be covered and Robertson is once again in the forefront ready to face it all!
Probing the cyber world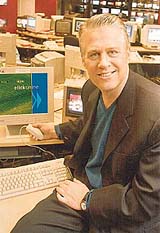 Click Online's Stephen Cole: World's a web.
The niche viewership of the show has been galloping thanks to the proliferation of the Internet. Now BBC World's Click Online every Saturday to Wednesday has enhanced its format with additional slots for consumer technology and a new weekly web review.
The programme, presented by Stephen Cole, has a fresh new look — a white and blue logo and a new theme tune. There's a new segment as well — Click Tips offering practical computing advice. There are also more interviews with industry leaders.
To celebrate the new look, the show featured the inventor of the World Wide Web, Tim Berners Lee who outlined his vision for the future and shared his thoughts on whether the web has lived up to his original expectations. Then there was a fascinating feature on a 16-year-old whizkid who could soon challenge the dominance of Microsoft.
One of the most-watched shows on BBC World, Click Online continues to look at tools and people who will revolutionise the business and personal lives not just of technology geeks but of general viewers as well.
Killers by instinct
From a huge raiding colony of ferocious army ants to the deliberate and deadly praying mantis, see how extraordinary miniature predators interact with their prey in Built For The Kill on March 31 at 9 p.m. on the National Geographic Channel.
The predators may be small but the predation is not. Witness the predatory interactions of creatures such as the nurturing jewel wasp, the bizarre periapts, the frightful arachnids and more go for their prey.
If you are a wildlife aficionado you will find this an absorbing show as this is a dramatic second-by-second analysis of the moments leading up to the kill and what follows after that. Excellent photography and good narration makes it both engrossing and informative viewing.
— Mukesh Khosla