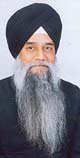 Local ragi gets prestigious award
Chandigarh, March 30
Local ragi Dr Jagir Singh has become the first ragi from the city to be honoured with the coveted Central Sangeet Natak Akademi award, initiated in the category of Gurbani Kirtan. Interestingly, it is the first time that the Akademi has presented an award in the category of Gurbani Kirtan. Meanwhile, Sharayu Kelkar, also from city, has been selected for the Central Sangeet Natak Akademi award in the category of Hindustani classical music.


Fresh snow, rain revive cold wave
Shimla, March 30
The intense cold wave sweeping mid and higher hills of Himachal Pradesh continued unabated today as the higher reaches of tribal areas and high mountain passes experienced another spell of heavy snowfall while the mid and lower hills were lashed by widespread rains.
Slight drizzle in city
Chandigarh, March 30
Overcast conditions and a slight drizzle in the city and its surrounding areas resulted in pleasant weather conditions throughout the day. The city recorded a day time maximum temperature of 29.6° Celsius, one degree below the normal average for this time of the year.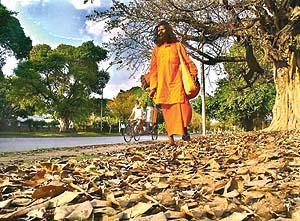 The pilgrim's progress: A sage walks on a windswept day on a Chandigarh road on Sunday. — Tribune photo Pankaj Sharma
Commuter's death: mystery deepens
Chandigarh, March 30
The body of a 37-year-old typist of Ropar, Budh Ram, was found near Jawahar Navodaya Vidyalaya in Sector 25 here yesterday under mysterious circumstances. It is learnt that Budh Ram died in an accident while commuting in a CTU bus plying on the Chandigarh-Kharar route.
Gurbachan Singh is NCP chief
Chandigarh, March 30
The following have been elected office-bearers of the Chandigarh unit of the Nationalist Congress Party(NCP) here today: president — Mr Gurbachan Singh; vice-presidents — Mr Raminder Pal Singh, Mr M.R.Premi, Ms Darshan Kaur; general secretaries — Mr Sham Lal Kanoujia, Mr G.C.Dhadwal, and Mr Jaspal Singh; secretaries — Mr Ramesh Chand, Ms Asha Gupta, Ms Sarla Gupta; treasurer — Mr V.K.Gupta; and executive members — Mr Ashok Bector, Ms Surjit Kaur, Mr Vishwa Bandhu Sharma and Mr Shakil Ahmed.
Pandher panel sweeps Press Club poll
Chandigarh, March 30
A nine-member panel, led by Mr Sarabjit Pandher, swept the annual poll of the Chandigarh Press Club today by winning all seats to the governing council. Mr Pandher was re-elected as President by polling 203 votes. He defeated his rival Mr Naresh Kaushal who polled 157 votes.
Environment awareness programme
Chandigarh, March 30
The Society for Social Health organised an environment awareness programme in Colony No 4, in collaboration with Environment Society of India, here today.
Kajheri residents protest land acquisition
Chandigarh, March 30
About 1500 residents of Kajheri village gathered here this evening to launch their protest against land acquisition in the village. The residents were mostly from the 450 families whose houses are affected by the move.


Narrow escape for bus passengers
SAS Nagar, March 30
Passengers travelling in a Punjab Roadways bus from Kharar to SAS Nagar escaped with minor injuries when the bus skidded and fell into a ditch close to the Balongi bridge on the Chandigarh-Kharar road last night.


Providential escape: The bus which fell into a khud at Balongi on the Chandigarh-Kharar road on Saturday night. Passengers escaped with minor injuries.