Lara's theme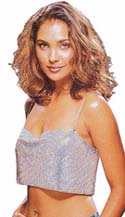 Lara Dutta: TV & Bollywood calling
She was one of the most in-demand models and is the UN's Goodwill Ambassador for life. Now the former Miss Universe, Lara Dutta has added another sobriquet to her name — that of an actress.
Her first film Andaz is ready for release and many more are in the pipeline. Interestingly, Lara is also open to good TV scripts and has set up her own production house which is putting together a health-based show.
She now has plans to go in for full-fledged TV production. Her focus would be documentaries on subjects like child abuse, education and empowerment of women.
However, as of now it is Bollywood that is her top priority. Is there any favourite hero she'd like to be paired against in the near future? Yes, she says, her boyfriend, Kelly Dorjee. "It would be great, if someone signs us. At least that way we can spend more time with each other. And I can assure you that film would be a hit!"
Picture perfect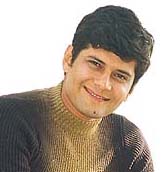 Upadhyay: Bollywood beckons
Like Ashutosh Gowarikar and Irfan Khan, he too has crossed the Rubicon and says that he no longer has time for TV as the big screen is the perfect place to be in.
A sad loss considering it was television that gave Amarr Upadhyay instant stardom. When Mihir Virani — the character he played in Kyuki Saas Bhi Kabhi Bahu Thi — died suddenly, viewers reacted so strongly that he had to be brought back to life.
Even after such lusty fan following he feels it is time to move on. Having added another 'R' to his first name as a good luck measure, Amarr has launched his career in films.
The beginnings have not been auspicious. His debut film Dhund — The Fog, bit the box office dust. But he says this has not perturbed him and he's counting on three other assignments to give him the much-needed jump-start.
His dates are chock-full with Wha Wha Ramji Jodi Kya Banayee, J.P. Dutta's LoC and Partha Gosh's untitled movie. He has also been signed as Pepsi's new brand ambassador.
It's not surprising that Amarr has no plans to return to small screen. "I've got some good breaks in Bollywood and I am not going to fritter those away for TV," says the star who hopes to repeat the TV-to-films success story of Shah Rukh Khan.
Engrossing fare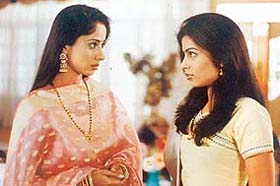 Des Mein Nikla Hoga Chaand: Culturally hyphenated Indians
It's high drama in Des Mein Nikla Hoga Chaand, Mondays 9.00 p.m. on Star Plus. Dev, who is supposedly ill and going to die, promises to attend Pammi's sister's marriage. On his way he is killed in an air crash. Pammi, pregnant with Dev's child, is devastated. No one knows whether she will survive the tragedy.
The serial shot in UK and India and directed by Aruna Irani, centres around the emotions and sentiments of Pritam Singh and his family who have left Punjab and are settled in London for the last 50 years! The nostalgic and bygone memories of their homeland constantly pull them to Punjab.
Despite its somewhat agonizing length, it has its relevant moments — at least for those who have relatives living abroad. Now the serial has reached one of its interesting high points and is likely to become more and more gripping in the next few episodes. Stay tuned.
Tracking the big cat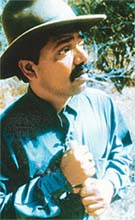 Roy in Great Cats of India: In the footsteps of the lion
Many know that there are around 3,750 tigers in India — more than half the world's entire tiger population. But few know that the country is also home to the endangered Asiatic lion that can be found only in the Gir National Park and Lion Sanctuary in Gujarat.
Alphonse Roy, a natural history cameraman, takes viewers from the Himalayas to the Gir in search of the lions in the Great Cats of India April 6 at 9 a.m. on Discovery Channel. The cinematographer attempts to capture portraits of India's great cats — lion, tiger, leopard and the ever-elusive snow leopard.
Following Alphonse throughout the entire filmmaking process, viewers will go through arduous journeys and the actual filming. The programme will also feature many friends and colleagues with whom Alphonse works, including local feudal overlords, leading scientific experts and conservation officers. A breathtaking show from start to end.
Kung Fu kings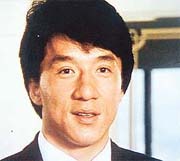 Jackie Chan in Dragon Forever: Old is Star Gold
Star Gold is expanding its horizons. From old Hindi films the channel is moving into unchartered territory of airing movies from other regions of the world, including Hollywood.
As a start, the channel is showcasing on Special Gold some of the best action films from the Far East every Saturday at 9 p.m.
Films like Samo Hung's The Prodigal Son, Jet Li's Once Upon A time In China, Chow Yun Fats's epic A better Tomorrow and the all time favourites, Jackie Chan's Dragon Forever and Bruce Lee's The Big Boss.
But there's a catch. You'll only enjoy watching the kings of Kung Fu if you don't mind seeing them mouthing Hindi dialogues!
— Mukesh Khosla