Monday, April 7, 2003
Feature
Thatched huts, Net and tribal prosperity
Kavita Bajeli-Datt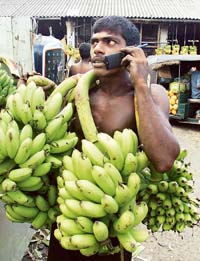 LOOKING at the blue and white thatched huts nestling in a corner of vast rice fields in this remote tribal area in central India, the last thing one expects is a computer. The Kumharpara village and its surrounding areas are savouring the fruits of success thanks to the skills of the craftsmen, many of whom are computer-savvy and use the Internet to stay in touch with their clients in the country and abroad.
Thanks to its potters, Kumharpara finds itself in a better state than most of the other villages in this two-year-old state. It also draws more tourists.
Kumharpara is located in Kondagaon, 225 km from the state capital of Raipur.
The village is inhabited by 1,500 families.
Ask any potter his name and he promptly fishes out his visiting card. One of the villagers is popular sculptor Jaidev Baghel, who has earned national acclaim and awards and brought recognition to his impoverished state.
Baghel has a huge, aesthetically decorated brick house from where he churns out his unique pieces of art and crafts in brass, bronze and bell-metal.
"I have a computer at home and stay in touch with all my clients and customers through it," Baghel told IANS. He lives in Bhelwapadar Para, a few kilometres away from Kumharpara, which literally means potters' land.
The potters have come a long way from their impoverished days of yore. Says Bhupesh Tiwari, chairman of NGO Saathi, which was established in 1993: "When I came here the people had no clue about the richness of their art. And so some of us came together so that they could take pride in their rich culture and also helped them to upgrade and market their craft. Today their lives have completely changed," he said.
Pilchand Chakradhari, another potter, said: "My whole family is in the business. I am sending my children to study so that they could help me in my accounts. I have been to almost all parts of India."
The state, known for its rich mineral deposits, has a population of 20.8 million. A third of the population is composed of different tribes who live mostly in the thickly forested areas in the north and south. — IANS