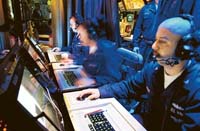 Weapons of hi-tech war
Roopinder Singh
Itís all in the grains of sand. Silicone chips that are at the heart of every "smart" electronic device have their origin in the very sand that got into the eyes of the mightiest military machine in the world, even as sandstorms and scorching sun gave tense moments to the US military planners. What an irony! Technology and war have been bed mates for long. We often forget that the Internet was actually designed for the US military to protect lines of communication in case of a nuclear attack on one or more major military centres.
Messaging gets more personal
Hugh Wilson
THOSE of you with little interest in accessing high-resolution porn while browsing the aisles of your local supermarket probably missed out on this monthís launch of third-generation (3G) mobile-phone technology. Its real significance will become apparent over the next few years. Because what they will also deliver is a further evolution in the way we flirt, date, conduct long-term relationships and, when it all goes belly up, end them.
Thatched huts, Net and tribal prosperity
Kavita Bajeli-Datt
LOOKING at the blue and white thatched huts nestling in a corner of vast rice fields in this remote tribal area in central India, the last thing one expects is a computer. The Kumharpara village and its surrounding areas are savouring the fruits of success thanks to the skills of the craftsmen, many of whom are computer-savvy and use the Internet to stay in touch with their clients in the country and abroad.
The CorDECT way to access Net
Parteek Bhatia
INTERNET has changed the way we deliver and receive information and the way we use it for business, entertainment, planning and living. But today, the Internet access at homes and offices is based on the telephone network. The Internet access today appears to be simple: just take a telephone line, connect a modem and a computer and dial an Internet Service Provider (ISP).
IT WIT
by Sandeep Joshi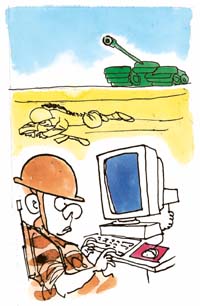 I was calling for air support but the network is down.
IT helps women voice their opinion
Sakuntala Narasimhan
TURNING adversity into advantage is what a successful go-getting strategy is all about. Not surprising then, that the Association of Women in Development (AWID) conference 2002, held in Mexico, came up with the suggestion that globalisation, which has so far been seen as working against the interests of women, could be co-opted for promoting gender equity.

Webcam, next to being there
Jay Dougherty
SEEING and talking to someone is the next best thing to being there. Thatís the idea behind Webcams , and the idea may finally be evolving into reality. Thatís what graduate student Samuel Austin discovered recently. The Virginia-based environmental science student had been using the Internet for months to communicate with his mother each day using a standard instant messaging tool.

Think, decide and buy
Jayant Murty
YOU'RE familiar with personal computer (PC) lingo but not confident enough to shop for one. After all, buying a PC is a crucial long- term decision, and whatís deemed current today can be obsolete tomorrow. Well, perhaps not quite at the speed of lightning but quick enough. So what do you do? You learn the doís and dontís in order to make a wiser purchase. Here are five golden tips to help you get the best deal:
Communicating with colleagues via network
Shalini Singh
THESE days memos, circulars, information and news do not have to be circulated in print. Rather they just flash on the monitors. When talks have been going on about transforming the IT industry into a paperless commercial enterprise, we must learn to communicate in a fast and effective manner too.
India now a terascale supercomputing nation
INDIA has joined the select band of four countries that have developed terascale super-computing system, with the inauguration of Param Padma, the next-generation high-performance scalable supercomputing cluster. It was built by the Centre to Develop the Advanced Computing (C-DAC).
Pioneer, who arrived too early, passes away
Eric Auchard
ADAM OSBORNE, whose successes and failures pioneering the first portable computer became one of Silicon Valleyís great cautionary tales, died at 64 after a long illness. Osborne, a British immigrant and long-time resident of Berkeley, California, died in his sleep in Kodiakanal, a village in southern India last week, his sister, Katya Douglas, told Reuters.