Dubai, April 8
US forces dropped bunker-busting bombs demolishing a building in Baghdad where they believed Saddam Hussein and his two sons were meeting and launched an all out assault on key government buildings in the capital today as they faced a major counter offensive at the hands of Iraqis.
A US bomber struck and demolished with four bunker-busting bombs a building where Saddam Hussein and his two sons were reported to be meeting to discuss an escape route last evening.
"I do not know whether he (Saddam) survived," US President George W. Bush said at a joint press conference with British Prime Minister Tony Blair after their meeting to assess the Iraq situation in Northern Ireland. "The only thing that I know is that he is losing power," Bush said.
Echoing Bush, Blair said, "In all parts of the country (Iraq) our power is strengthening and the Iraqi regime is weakening, the Iraqi people are turning towards us."
Iraqi Information Minister Mohmd Saeed-al-Sahhaf, however, remained defiant telling reporters in Baghdad that Iraq was going to "tackle and destroy" the invaders. "They are going to surrender or be burned in their tanks," he said.
Acting on what US officials said were three credible sources, including a listening device planted in the building, a single B-1 bomber dropped four bunker-busting satellite guided bombs on the target in al Mansour, a residential area of Baghdad at around 2 pm local time (4.30 pm IST).
There are reports that a number of civilians were killed in the attack but there was no word on the fate of the Iraqi dictator and his sons Uday and Qusay.
According to the reports, a voice sounding like President Saddam's had been overheard discussing routes out of the city.
Staging a major counter offensive, Iraqi forces drove into Baghdad in buses and trucks and took vantage positions on rooftops to target US tanks rolling through the city. They traded machine gun, rocket and mortar fire with the invaders.
Fighting was intense with A-10 US planes sending round after round smashing government buildings in Baghdad. Two US Apache helicopter gunships bombarded a compound believed to be used by Republican Guards in Southeastern Baghdad with rockets and machine guns.
Low flying US planes provided air-support to at least two tanks moved from the presidential palace to take up positions on the nearly Jumuhuriya bridge drawing fire from Iraqi forces.
Four tanks remained inside the compound and were engaged in fierce exchanges. Iraqi Television and Radio went off the air for about two hours in the morning, reports reaching here said.
A US A-10 Thunderbolt strike aircraft went down outside Baghdad near the Saddam International Airport, the Central Command announced without disclosing the causes of the crash.
"The pilot ejected safely from the aircraft and was recovered by coalition ground forces near the airport," the command said in a statement in Doha.
In the South, the British forces claimed that they had captured the port city of Basra and asked a senior Iraqi tribal leader to form a committee to run it. Meanwhile, Mr Bush and Mr Blair dwelt on the "vital" role of UN in all aspects of post-war Iraq.
"When we say vital role for the UN we mean, vital role for the UN in all aspects, whether it be humanitarian aid, or whether it be to stand up an interim authority." Mr Blair said the United Nations would have a key role in post-war Iraq but ultimately the country must be run by the Iraqi people.



| | | |
| --- | --- | --- |
| Christian Liebig | Jose Couso | Taras Prodsyuk |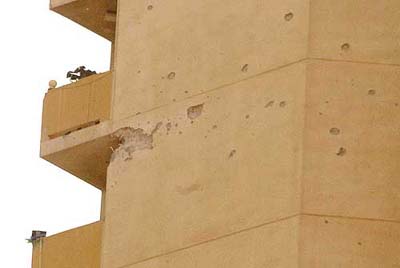 The
Impact of a US tank shell is seen on the Palestine hotel in Baghdad on Tuesday. The hotel took fire after US troops said snipers were shooting at them from the building. — AP/PTI
BAGHDAD: A US tank fired on a Baghdad hotel packed with foreign journalists today, killing two cameramen, one from Reuters, the other from Spanish television.
A third journalist, from Al-Jazeera, was killed in what the Arab television channel called a US air strike on its office.
Three other Reuters staff, a reporter, a photographer and technician, were wounded in the hotel shelling.
The military said it regretted any casualties but said Baghdad was a war zone and safeguards could not be given.
Reuters' Warsaw-based Ukrainian cameraman Taras Protsyuk, 35, died in hospital. The international news organisation's Editor-in-Chief Geert Linnebank said the loss was "so unnecessary" and raised questions about US troops' judgment.
Spain's Tele 5 (Telecinco) television said Jose Couso, 37, also died in hospital after being hit in the jaw and leg.
Lebanese-born Samia Nakhoul, Reuters' Gulf Bureau Chief based in Dubai, and Iraqi photographer Faleh Kheiber suffered facial and head wounds and concussion. Television satellite dish coordinator Paul Pasquale, a Briton, suffered leg wounds.
Near Najaf: According to an AFP report, the US military said on Tuesday that fears that five soldiers, who suffered blisters while on duty near the central Iraqi town of Najaf, had been exposed to mustard gas were believed to be a "false alarm".
NEW DELHI: Satish Jacob and his cameraman Syed Nooh Nizami, the only Indian crew stationed in Baghdad and working for Doordarshan, had a narrow escape when an American tank fired on the fifth floor of Palestine Hotel where they were staying.
Jacob and other journalists immediately rushed out to the hotel lobby after the firing in which three journalists were killed.
Minister of State for Information and Broadcasting, Ravi Shankar Prasad rang up the office of Third Eye, enquiring about the fate of Jacob and the cameraman, said a release from World Report.