THE TRIBUNE MAGAZINES
On alternate Mondays

On Sundays
On Saturdays
IN PASSING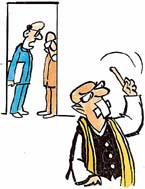 After the Shanta Kumar episode, all BJP ministers are using sign language only.
by Sandeep Joshi
SP releases another CD on Mayawati
Lucknow, April 8
In an attempt to embarrass the BJP, the major ally of the BSP in the state government, the Samajwadi Party (SP) today released a CD showing Uttar Pradesh Chief Minister Mayawati asking her party leaders not to get swayed by "Manuvadis" and not to worship gods.

Staff selection board chairman booked
Shimla, April 8
Mr S.M. Katwal, chairman of the state subordinate selection board, has been booked by the Enforcement Department under the Prevention of Corruption Act in connection with alleged irregularities in the selection of vidya upasaks.

Himachal page

Board bends rules to adjust 'favourites'
Job for Shanta: in BJP central office?


New Delhi, April 8
A day after former Rural Development Minister Shanta Kumar quit the Vajpayee Cabinet at the direction of the Bharatiya Janata Party high command, there was speculation today in the party circles over his possible accommodation in the central office of the organisation after a reshuffle.



Cartel gets Haryana liquor trade on a platter
Chandigarh, April 8
The multi-crore liquor trade in Haryana has gone to a handful of persons this year, with official consent, in an exercise in which established conventions, trade practices and, some say, even high court directions have been violated. According to sources, the monopoly game in Haryana is being played by four major players.
US forces seize Saddam's palace
April 8, 2003
US plane lands at Baghdad airport
April 7, 2003

US tanks roll into Baghdad
April 6, 2003

Allies seize Baghdad airport
April 5, 2003
Baghdad airport attacked
April 4, 2003
Allies close in on Baghdad
April 3, 2003

Allies kill 11 unarmed Iraqi civilians
April 2, 2003

Al Qaida-Iraq nexus exposed
April 1, 2003

Suicide attack on US base
March 3

1

, 2003
Suicide bomber kills 5 US troops
March 30, 2003
Fresh raids rock Baghdad
March 29, 2003