Mum's the word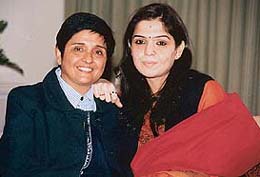 Saina with mother Kiran Bedi:
Small screen debut
She says she's finally found her field of dreams, Saina, daughter of India's first lady police officer, Kiran Bedi, is so engrossed in producing Galati Kiski, Wednesdays, 10 p.m. on Doordarshan, that she has little time for anything else.
Authored by Bedi, the series is based on startling voluntary disclosures of people with a murky past and their struggle to reform. Though dealing with social issues, the series has been handled sensitively.
Saina who had to drop out of her medical course due to health reasons, is currently doing law and handles the affairs of India Vision Foundation, an NGO set up by her mother that takes up issues like drug abuse, empowerment of women, rural development and more.
Galti Kiski may be her first TV project but Saina is already planning her next. And once again she is on familiar territory. The next series titled It's Always Possible is on prison reforms and penned by (you guessed it) Kiran Bedi!
"Two of the best things I've learnt from my mother are the power of honesty and simplicity. She has achieved eminence because of being a thoroughly upright person." When you have a mother like Kiran Bedi hero worship comes easy.
Different strokes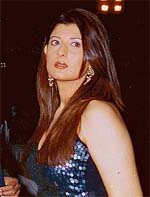 Sangeeta: New performance
For those who thought Sangeeta Bijlani, wife of Mohammad Azharuddin, was down and out here's some interesting news. The former star is now into theatre and has pulled a coup of sorts with Amar Akbar Ann-Toni that is playing to packed houses in Mumbai. So much so that Sangeeta may be planning to make it into a TV serial.
A Mumbai-ishtyle spoof about extra-marital affairs, the play is peppered with humour and double entendres. Now Sangeeta and her brother Sunil Bijlani have roadmapped a nationwide tour through Bangalore, Hyderabad, Nagpur, Kolkata and Delhi in association with major corporates.
While Amar-Akbar-Ann-Toni is literally going places, the unqualified success of the play is inspiring Sangeeta Bijlani into toying with the idea of presenting the play as a serial. According to reports, even though the TV version is still in the scripting stage there is already a line of sponsors for the rollicking comedy. The couple's innings is not yet over.
Action women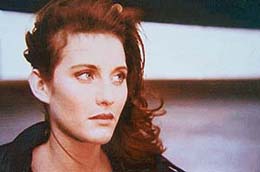 Spitfire: Women warriors
You've seen them flexing their muscles on the WWF show. You've seen them fight it out in Xena The Warrior Princess. Now see how the big screen women turn into mean machines every Saturday at 8 p.m. on Star Gold.
The channel brings to its viewers a series of films, presenting iron women — be it kung-fu, Karate, guns or simply killing softly with sheer charm, nothing can match these women warriors.
Some of the featured films are Spitfire (April 19), starring Lance Henrikson and Debra Jo Fondren and Yes Madam (April 26) starring Michelle Khan and Cynthia Rothrock, which make this series pulsating and simply not for the faint hearted. Though dubbing them in Hindi does take away most of their charm.
Room with a view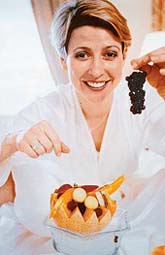 Discover some of the world's best hotels with host Samantha
Imagine relaxing in Napolleon's white marble bathtub or travelling to the Italian Riviera — all this without leaving your home.
Viewers of the Discovery Channel's Great Hotels, every Monday at 12 noon, can expect these surprises and more when host Samantha Brown takes a trip to some of the world's exceptional resorts and hotels.
Each half-hour episode explores up to two destinations, complete with encounters and eccentricities that reveal what makes each hotel a truly great experience.
Viewers can join Samantha as she visits some of the most luxurious resort hotels. She also explores the rich history that makes each unique, indulges in the service provided in these spectacular locations and experiences the exceptional appeal of the destinations. So pack your bags and be prepared to be pampered like royalty.
CNN's hi-tech war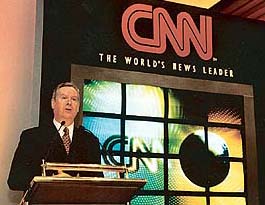 CNN: Live from Iraq
Bad news is definitely good news for some channels. And CNN is the prime example. For most of March, it has been clocking some of the highest viewership ever since the outbreak of hostilities in Iraq.
In fact, some of the footage of the war revealed how new technology is changing the way broadcasters can transmit dramatic footage live from new and challenging environments. CNN's Walter Rodgers debuted the new equipment while travelling at speeds of over 60 kmph throughout the advance of the troops across Kuwait border and deep into Iraq.
To achieve these images he used a standard videophone system connected to a specially developed tracking satellite phone antenna, mounted on the vehicle roof. This antenna has the ability to lock on to a satellite beacon and remains stationary, even as the vehicle it's mounted on turns, bounces, and speeds along.
The new technology has won CNN numerous accolades, including innovation awards. And is a bonus for the viewer.
— Mukesh Khosla