Vacation scene this summer is
...off course
Peeyush Agnihotri
THE mouse plans to pip GI Joe and the keyboard has intentions of scoring over the blackboard. This summer vacation, too, school kids are ready to don the techno-cap and parents are also more than eager to expose the apples-of-their-eye to a heavy dose of technology.
Diversify, suggests UN report
TERMING the Indian IT sector a success story, a UN survey released recently said local software companies should diversify export markets to ensure a sustainable growth in the long-term. "The performance of the Indian IT industry depends largely on global economic conditions, particularly the US market," said the report by the Economic and Social Survey of Asia and the Pacific (ESCAP).
Toilet rolls from Saddam's palace go under hammer
Gaurav Sood
SADDAM Hussein is untraceable but has certainly become a celebrity on the cyber auction Website, eBay.com. The former Iraqi dictators' currency notes, toiletries, clothes and videos are being auctioned for future collection. If the report in Daily Times, a Pakistani newspaper, is to be believed, more than 1,000 of them are at present available for auction.

Let's go troubleshooting
Jasjot Singh Narula
COMPUTER, undoubtedly, is a wonderful invention, that has made the day-to-day task easy, yet these wonderful machines can also become incredibly infuriating at times. This implies that your PC is in for trouble and are you.

Watch out! You are being monitored
Andy Sullivan
BILL Brown stands in the middle of a crowded Manhattan sidewalk, gesturing obscenely toward the sky. "You've got no right to do this! I think you're a coward!" he shouts at a video camera staring back at him from four stories up.

IT WIT
by Sandeep Joshi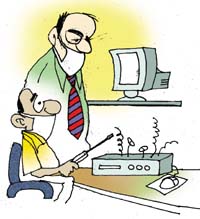 Wear an anti-SARS mask while assembling — the HDD is from Singapore, RAM from Hong Kong and processors are from Taiwan.
Game-makers' envy, players' pride
Christoph Lippok
EVEN the hardest-boiled of computer gamers can get nostalgic sometimes. When the mood strikes, help is available on a PC, where old arcade-style games have been dusted off and given a new life. One of the easiest options for getting your PC to play old games is a so-called emulator for Windows or Apple PCs. Emulators are software programs that mimic the feel of a PC or game console.

Purchasing art online
FOR the connoisseurs of contemporary art, here is a site that has an extensive collection of art works from around the country that can be purchased online. The site, saffronart.com, has an extensive collection of artist profiles of more than 300 artists, new features, art news and a directory of current exhibitions.

Afghan women pin hopes on PC
David Brunnstrom
THE screensaver on 18-year-old Nabila Akbari's desktop computer shows a spectacular sunrise, and with just a few clicks on the mouse she replaces it with bright spring tulips. The Kabul University student hopes she is part of a new beginning in war-ravaged Afghanistan, where less than two years ago a young woman like her would hardly have been let out of her house, let alone into a classroom to study information technology.

Kripya Hindi mein SMS karen
Gurpreet Singh (18) from SAS Nagar and Kunal Arora (19) from Jalandhar look just like their classmates pursuing their B.Tech from a regional centre of Guru Nanak Dev University, Amritsar. No geeky get-ups and no false airs. But then deeds, and not appearance, discerns ordinary from the extraordinary. And they both are more than ordinary in the sense that while the rest of their ilk are 'users' they are 'creators.'