Monday, April 21, 2003
Feature
Game-makers' envy, players' pride
Christoph Lippok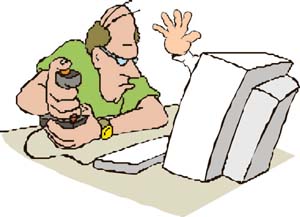 EVEN the hardest-boiled of computer gamers can get nostalgic sometimes. When the mood strikes, help is available on a PC, where old arcade-style games have been dusted off and given a new life.
One of the easiest options for getting your PC to play old games is a so-called emulator for Windows or Apple PCs. Emulators are software programs that mimic the feel of a PC or game console. They can turn a hi-tech PC tiger running at several gigahertz into a toothless old pussy cat, with coarsely pixilated graphics and crawlingly slow speeds that will threaten to put today's gamers to sleep.
Emulators, known as "emus" to their fans, fool game software into believing that it is in its desired environment. Yet even if the end results don't show it, running emulation software can be a big drain on the PC's processor.
"Consoles are built with a whole mass of specialised chips that aren't found in the PC world," explains Marcus Schwerdtel, emulator expert and lead editor at the gaming magazine GameStar. Emulator programmers can be genuine fanatics, Schwerdtel emphasises.
Emulators go by names like Cyberstella, NESten, RockNES X, ZNES, Snes9X, and VisualBoyAdvance and are usually distributed for free over the Internet. The software emulators usually note that they are not intended for use with commercial software, in particular games that fall under copyright protection.
The emulator solution is particularly attractive because the games, created at a time when the Internet was not even imagined, can now often be played over the Net. Games can also be saved in progress, which was generally not a possibility in the original versions.
Game software, known as Rom within the field, is available over the Internet from various Websites - some of them pretty ominous looking. Such software is theoretically only available for download for those who already own an original version.
Another favourite for emu fans are emulators that can reproduce the feel of the Nintendo Gameboy line, from the early models up through Gameboy Advance, on a PC. In this case, Nintendo is not pleased with this activity. A spokesman from Nintendo's European office warns that every instance of software piracy will be prosecuted.
Other modern consoles, including Sony's Playstation 2, Nintendo's Gamecube, or the Microsoft Xbox, have not yet made their way to the home computer. Even the quickest of computers are unable to cope with the demands such emus would place.
Even if all legal issues are ignored, the path from downloading an emu to playing the first game can be a difficult one. Documentation is often rudimentary or non-existent. The configuration requirements are sometimes so onerous that the desire to play can be extinguished. "Working with emulators is not exactly easy," Schwerdtel say, dampening the hopes of those just looking to play a quick game. — DPA