Akali unity slow, steady process
Chandigarh, April 25
The issue of unity between the Badal-led SAD and the Tohra-led Sarb Hind Shiromani Akali Dal will be a ''low key'' affair at the meeting of the Political Affairs Committee of the Shiromani Akali Dal here tomorrow, say sources.
'Pressured' by politician, official goes on leave
Jalandhar, April 25
Is political interference behind the mushrooming of illegal buildings in Jalandhar, where two influential builders and three civic body officials have been booked by the Vigilance Bureau in an alleged multi-crore building composition fee scam?
Misleading ads shatter dreams
Fazilka, April 25
A case of minting money by inserting misleading advertisements has come to light here recently. Vinod Kumar (29), a postgraduate and resident of Kailash Nagar locality here who is presently working at Vidya Niketan Public High School here told the correspondent that he read the advertisement regarding the recruitment of teachers published in Employment News tabloid on April 5 and 11.


Aneja heads Jalalabad MC
Jalalabad, April 25
Mr Ashok Aneja of the Congress was today unanimously elected president of the local Municipal Council. The election was held at local Municipal Council office, where all the 14 newly elected Municipal councillors, also belonging to Congress Party were present.
Cong nominee is zila parishad chief
Hoshiarpur, April 25
Mr Arjan Singh of Nangal Bihala village and Mr Gurdial Singh of Bohan village, both Congress nominees, were elected unopposed as Chairman and Vice-Chairman, respectively, of the Zila Parishad (reserved), Hoshiarpur, here this afternoon. The Congress has a strength of 22 in 30-member Zila Parishad.
Cong men boycott Bir Devinder's function
Patiala, April 25
Congress men today deserted the Punjab Vidhan Sabha Deputy Speaker, Mr Bir Devinder Singh, virtually boycotting a samman samaroh organised in his honour at the Circuit House by a social welfare organisation which he had earlier headed.
10 in fray for medical council poll
Phagwara, April 25
Ten candidates were left in fray for the election to the Punjab Medical Council after the scrutiny of papers. Dr Raman Kumar Aggarwal of Phagwara, one of the candidates, told this correspondent that the scrutiny was conducted in the office of the Returning Officer, Dr A.S. Padda, Joint Director, Medical Education and Research, at Chandigarh, today.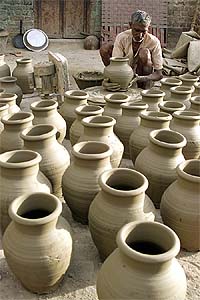 A potter makes earthen pitchers at his workshop in Amritsar on Friday. The potter earns his living by selling his pitchers at Rs 20 (45 cents). — Reuters
Order to release 9 prisoners
Gurdaspur, April 25
Mr Justice Nirmal Singh of the Punjab and Haryana High Court during his inspection of the Central Jail here released nine prisoners, including two Bangladesh nationals, and an undertrial from Jammu and Kashmir.
Suspected SARS patients recovering
Bathinda, April 25
Ms Saroj (45), wife of Jagdish Rai Sharma, a suspected patient of Severe Acute Respiratory Syndrome who was admitted to the local Civil Hospital on April 23 after she complained of high temperature and breathing problems, has recovered fully and is likely to be discharged today.
SGPC panel meets Panthic bodies
Chandigarh, April 25
The SGPC has not yet reached any conclusion on allowing women to do "seva" in Darbar Sahib. A meeting of the SGPC subcommittee set up on the issue, was held at local Kalgidhar Niwas here toady. Briefing the press Dr Darshan Singh said another meeting would be held on May 8 and the subcommittee would submit its report to SGPC President Kirpal Singh Badungar by May 15.
HIGH COURT
Victim's mother granted compensation
Chandigarh, April 25
In less than three years after a soldier was accidentally killed during counter-insurgency operations in Jammu and Kashmir, the Punjab and Haryana High Court today directed a payment of Rs 5 lakh as compensation to the victim's mother.
Plea dismissed
Notice issued
Snag costs power plant lakhs
Bathinda, April 25
Unit number one of the Guru Nanak Dev Thermal Plant here which was switched on in the morning, yesterday after repairs, tripped in the evening. The unit was started after routine repair. Some fault in the boiler of the unit led to tripping.
CM's visit propels action
Chandigarh, April 25
As a sequel to the surprise visit of Chief Minister Amarinder Singh to Ropar yesterday the district administration has initiated action. A spokesman for the Punjab Government said the visit by the Chief Minister had acted as a propeller to instill confidence in the public regarding government commitment to good governance.
2 women devotees save 'bir' from fire
Hoshiarpur, April 25
Ms Manjit Kaur and Ms Chinti Devi — devotees — saved holy Bir of Sri Guru Granth Sahib from burning at Kunta village gurdwara under police station Hariana in early morning today.
Bungling of Red Cross funds to be 'probed'
Abohar, April 25
Mr Jagtar Singh Khatra, DPI (Elementary), has reportedly assured the Democratic Teachers Front that a high-level inquiry would be conducted into the alleged misappropriation in Red Cross, sports and child welfare funds at a Block Education Primary office here.
Woman drowns 2 daughters
Batala, April 25
A 30-year-old woman, married for three years, allegedly drowned her two daughters, aged two years and seven months, at home this morning, the police said. Sukhwinder Kaur, after allegedly drowning Jaideep (2) and Kirandeep (7 months) in a water bucket at home in Mann Nagar around 3 am, woke up her husband, father-in-law and mother-in-law and informed them they had died in accidental drowning.
Woman, son held for minor's rape, murder
Jalandhar, April 25
Murder case of 10-year-old school girl, from Dhilwan village whose body was found in a plastic bag near her house, was solved with the arrest of her middle-aged neighbour and father of three, who allegedly had strangled the girl and tried to conceal it with the help of his mother.
Unit making fake Glucon-D unearthed
Jalandhar, April 25
The district police has unearthed a chemical factory allegedly manufacturing duplicate Glucon-D. Mr Varinder Kumar, SSP, in a press note issued here today, said Heinz India Private Limited has been manufacturing and selling Glucose-D under the trade name of Glucon-D.
PUDA staffer caught taking bribe
Bathinda, April 25
The Vigilance Bureau arrested an employee of the Punjab Urban Development Authority while he was accepting a bribe of Rs 1,500 here today.
Refund security, dental college told
Mansa, April 25
The District Consumer Disputes Redressal Forum here has ordered Mr Naginder Singh Harika, Managing Director, Khalsa Rural Dental College and Hospital for Women, Nangal Kalan in the district to refund Rs 1 lakh along with interest at the rate of 18 per cent per annum to Ms Shikha Sharma, daughter of Mr Lachman Dass Sharma, of Panchkula a student of the above college.
Punjabi University bans mobiles
Patiala, April 25
Punjabi University has banned the carrying of mobile phones into its examination centres after it was discovered that the phones were being used as a copying tool by various candidates.
Publishers in league with schools?
Bathinda, April 25
With the start of the new academic session, some book sellers and publishers of guides and other help books have allegedly started making deals with some schools to get "favourable recommendations" for their books.
5 NCC cadets honoured
Jalandhar, April 25
The NCC Group Headquarters here today honoured five cadets and gave them Rs 5,000 each.