Sunday, April 27, 2003
Books
Globalisation, a western imposition?
Parshotam Mehra
Globalisation or Gobble-isation: The Arab Experience
by Ash Narain Roy. Konarak Publishers Pvt Ltd, Delhi. Pages 189. Rs 325.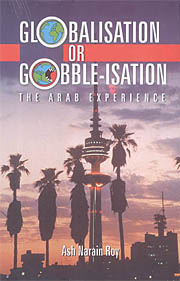 FEW issues over the past decade or two, have generated such animated if heated debates as globalisation with its ardent protagonists and equally staunch antagonists in formidable battle array. Public platforms, the Press, electronic media—you name it—no opportunity has been missed, no holds barred. However, no broad consensus has emerged on the issue and the jury is still out.
In essence, globalisation is a response to the challenge of the global village. As the world economy becomes more integrated and nations increasingly inter-dependent, globalisation becomes compulsive. A world with a progressive removal of barriers to trade, investment and movement of capital across national boundaries is inevitably drawn closer together. And a phenomenal advance in information technology, movement of people—and ideas, helps. How does one halt its march? Stay its sweep?
The net gains are immense. By integrating economy, culture and governance, globalisation offers unprecedented opportunities for human advance for many; with market forces holding sway, it promotes economic efficiency, generates growth, and multiplies profits. The flip side though is not attractive. For such vital issues as equity, human security, poverty eradication get short shrift. And there are not a few who are directly affected. For large parts of Africa, Latin America, above all Asia, globalisation spells a grim present—and a grey future.
The focus of the slim volume under review is the Arab world, sprawling over a large part of West Asia and a sizeable chunk of North Africa. Familiar names spring to mind: Egypt, Saudi Arabia, United Arab Emirates, Syria, Jordan and Lebanon. With a singular lack of liberal democratic culture, the regimes here are, for most part, regressive. In the event, the Arabs' distrust and hostility towards the West is reinforced by the fear that globalisation is a Western imposition, and would, therefore, necessarily spell disruption and disaster.
The overall picture is sombre registering the Arab world's "low scoreboard" on democratic institutions and "overwhelmingly negative" perspective on globalisation. Mercifully, there is one bright patch. And that is Kuwait—"Best house in bad neighbourhood". To be sure, "Kuwait as a model" looms large on the horizon with almost a third of the book devoted to this "most modern, liberal and onward-looking country." Whose "pluralism and openness" to the world and the "enlightened leadership" and "political pragmatism" of whose Emir show "a new vision" that is "worth emulating."
The study rests on an impressive array of periodical literature drawn mostly from the Western media with a smattering of Arab writers and commentators thrown in. Unfortunately, however, there is a glut, which militates against the flow of the narrative. Author of an earlier work The Third World in the Age of Globalisation: Requiem or New Agenda?, Ash Narian Roy holds a PhD degree from Jawaharlal Nehru University.