Celebrities like Jaya Bachchan, Mrinal Sen, Mahesh Bhat, Deepti Naval, Shashi Kapoor, Suhasini Maniratnam and Shabana Azmi attended the high-profile seminar. However, Ektaa Kapoor — the one person they looked forward to meet the most chose — as usual to skip the meeting. A habit which is now becoming a kahani meeting meeting ki!
Good news for some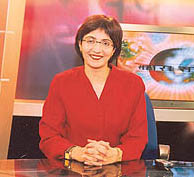 Sahara Samay National: New kid in the news slot
It's big news. In fact, the current Iraq war has shown that news is turning into a mega event. Channels have been vying with each other in providing breaking news stories 'on the hour, every hour', as BBC World puts it.
However, the newly launched Sahara Samay National is turning out to be the surprise package. Collaborating with CNN, the channel has features like Aap Ki Awaaz and Aage Kya Hua. There would also be city-centric channels where viewers get local news.
Experts say that after September 11, news started competing with popular soaps for viewer attention. Before that it claimed just 1.9 per cent of the total viewership. With the Iraq war it has gone up to 6.5 per cent. The rise has been at the cost of serials and soaps whose viewership has fallen from a high of 41.7 to 37.1 per cent.
Which explains why all news channels are gearing up for the big fight that will see some emerge as clear winners while others could simply perish. And with more and more players eyeing the slot, it looks like good news for viewers.
What a four(some)!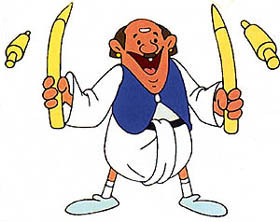 Anda Bhai on ESPN-Star Sports: Creating a cricketing scene.
Even as the cricket action began at the Bangabandhu National Stadium in Dhaka viewers got to meet four spectators on ESPN-Star Sports — Anda Bhai, Gilli Swamy, Yogi and Runjeet Singh. Hyderabadi Anda Bhai is a cricket-loving duck who also loves biryani. And he comes in his element when a cricketer walks back for a duck!
Then there is Gilli Swamy who has a special love for wickets. Especially when the batsman gets clean bowled. A resident of Kochi, who enjoys appams and stew, Gilli comes charging on screen when those bails come off!
Runjeet Singh of Jalandhar breaks into bhangra whenever the batsman scores a 50 or a 100. He loves colourful clothes and enjoys his tandoori chicken. He has worked out two separate routines to celebrate the real 'big ones' and he does them both in great style.
A cut above the others is Yogi, a cricket astrologer from Patna. He is ever ready to come to an umpire's aid when tricky decisions have to be announced. When not watching cricket he can be spotted gorging on Rabri!
So pad up for a mayhem of sorts with these four rabble-rousing cricket aficionados.
Transition time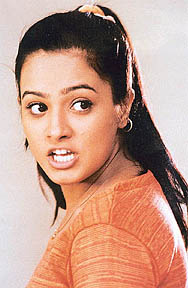 Amrita: Bollywood beckons
The transition from television to films is often a tricky one. Just ask Renuka Shahane, Pallavi Joshi, Pankaj Kapoor or any of the countless TV stars who've flopped in films.
But every once in a while a TV star makes it big. Shah Rukh Khan, Himani Shivpuri, Aloke Nath who've struck gold. Now a young lady hopes to emulate their success.
Amrita's date with good fortune began when she played the lead role of Tanushree in Balaji Telefilms' Kabhii Sautan Kabhii Sahelii. So impressed was Ektaa Kapoor with her performance that she instantly signed her opposite brother Tusshar in Kuch To Hai.
Though the film fell flat on its face, Amrita's dance number Ding Dong Ding became an instant chart-topper and producers gave her a second look. Now, her second release Yeh Dil also opposite Tusshar Kapoor hasn't opened to an encouraging response.
But offers are flowing in and Amrita says she's finding it hard to say no to producers. And she's being advised to do two things — not to sign whatever comes her way and avoid too much identification with Tusshar. After all, if he can't give himself a hit despite everyone's efforts, chances are he can't guarantee Amrita a hit as well!
A struggle to survive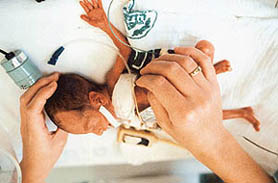 A Chance To Grow: Life's like that...sometimes
Three newborns cling to life in a neonatal intensive care unit and survive "intact and loved" by families and the medical team that saves them.
Award-winning specialist nurse and filmmaker, Claire Marie Panke, follows three families as they learn to touch and love the new borns hooked like miniature squid to life-saving equipment in A Chance To Grow on Wednesday, April 30 at 10 pm, on the National Geographic Channel.
Panke illuminates the controversial issues of medical ethics that play out on a daily basis in the ICUs. "Most parents want aggressive treatment, but sometimes aggressive gets you out, but not intact," says she. "You struggle with every decision you make." And it is this struggle which makes the show so nerve-racking.
— Mukesh Khosla