Sunday, April 27, 2003
Books
A grand narrative of the later Mughals
J. S. Grewal
The Forgotten Mughals:
A History of the Later Emperors of the House of Babur (1707-1857)
by G. S. Cheema. Manohar, New Delhi. Pages 552.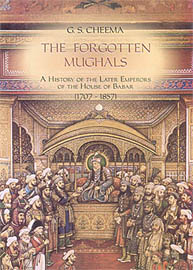 THIS book reads well. It gives a fascinating narrative of events connected with emperors and courtesan-queens, parties and politics at the court, foreign invaders and native rebels, armies and camps, commanders and soldiers, based largely on the classic works of William Irvine, Jadunath Sarkar, and Percial Spear, and the contemporary sources like Ghulam Husain's Siyar al-Mutakhkhrin. An essentially political narrative is punctuated with anecdotes, asides, and reflections on personalities, institutions and administration, society and culture, ethics and manners, ethos and the spirit of the times. Apt or ample quotations add poignancy and colour to the narrative. Regicide, destruction of life and property, brutality, cowardice, sensuality, disloyalty, duplicity, betrayal, and moral degradation are brought into high relief. The sombre atmosphere is relieved by mild irony, subtle humour, and an undercurrent of pathos.
The century and a half of the Later Mughals, known for its wars of succession, was nonetheless marked by some long reigns. Muhammad Shah ruled for nearly thirty years (1719-48) to witness the invasion of his vast dominions by the Marathas and Nadir Shah. While Malwa and Gujarat came under the control of the Marathas and territories beyond the Indus were formally ceded to Nadir Shah, the Deccan became autonomous under Nizam ul-Mulk. The process of dismemberment was complete in the long reign of Shah Alam (1759-1806). Bengal and Awadh became independent under Mughal governors. The Rajputs vassals became de facto rulers. The Marathas expanded their dominions. The Rohillas and the Jats established new kingdoms. The Sikhs began to rule over the Punjab. Delhi itself was eventually conquered by the East India Company. The stories of all these powers are interwoven into the grand narrative of the later Mughals who recede into the background. Even the chapter headings announce the dictatorship of the Syeds, the ascendancy of the Turanis, the ministry of Safdar Jang, the rise of Imad ul-Mulk, the dictatorship of Najibuddaula, the regency of Mahadji Scindia, and his dictatorship. The 'dawn of a new age' refers to the rule of the East India Company.