Friday, May 2, 2003, Chandigarh, India



B U S I N E S S
PSIEC scheme for defaulting firms
Ranbaxy owes Rs 19 crore, Godrej Rs 8.5 crore
SAS Nagar, May 1
Even as the Punjab Small Industries and Exports Corporation announces its one-time relief scheme on payment of interest on enhanced land prices due to be paid by defaulting industries across the state, focus is now on the defaulting industries of SAS Nagar that alone owe about 60 per cent of the total amount due to the PSIEC by various industries in the state.
SBI, BoB, Union Bank cut rates
Mumbai, May 1
Taking the cue from the RBI's half-yearly Monetary and Credit Policy, the leading public sector banks have decided to work out a single prime lending rate and reduce both the PLR and deposit rate by 0.25 percentage point each.
Hero Honda bike sales skid 1.2 pc
New Delhi, May 1
Hero Honda Motors reported today a marginal 1.2 per cent drop in sales during April, 2003, at 1,34,318 units against 1,35,961 units in the same month last year.
WB predicts 5.5 pc growth
New Delhi, May 1
The World Bank today said the Indian economy was likely to grow by 5.5 per cent this fiscal, which could increase to 7-8 per cent in the coming years, provided the reforms were speeded up.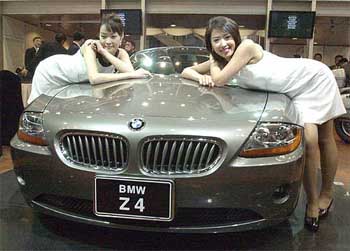 Models pose with BMW Z4 during the 2003 Korea Import Motor show in Seoul on Thursday. — AP/PTI
BIZ TOON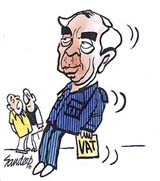 He is quite fast at walking backwards!
Calling party pays from today
May 1, 2003
Economy to grow at 6 pc: Jalan
April 30, 2003
Satyam opens centre in Malaysia
April 29, 2003
Cut in bank rate, CRR likely
April 28, 2003
Indal, Indo-Gulf Fert profits rise
April 27, 2003
FM offers sops for powerloom sector
April 26, 2003
LS adjourned over selloff issue
April 25, 2003
Reliance reports 26.54 pc growth in net
April 24, 2003
Punjab exports up 4.6 pc
April 23, 2003