Changing fashions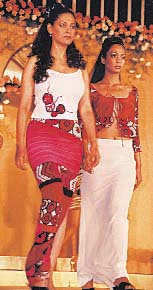 Will the India angle work for FTV?
Time was just a year ago, when it was largely watched more for its sensuous models in revealing dresses and less for fashions. So much so that the government was reported to be considering blacking out the channel.
But good times seem to be rolling out for FTV as the channel gears itself to go Indian with a passion. Instead of little known European designers and ramp models in skimpy attire, the fashion channel will focus on Indian designers, models, fashion photographers, hair and make up stylists.
There will also be group shows by up and coming designers, model watch and many more added features of the fashion world.
"The content will be more from India and neighbouring countries, but the format will be international," says a spokesperson of the channel. Heritage fashion and textile will form a major chunk of the programming. Since they impact the national psyche to a great extent, filmi fashions too will form an important part of the offerings.
With this very focused India tilt, Fashion TV hopes to attract megabuck advertising that has been eluding it ever since it was launched.
Comic interlude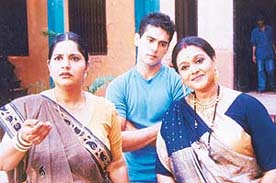 Supriya Pathak (right) in Khichdi: Back in the race.
Today, there may be something outsized about the lady. The star of serials like Mohandas B.A.L.L.B., Idhar Udhar and Zindagi may be weighed down but as far as her flair for comedy goes she has neither lost her spirit nor her touch.
As in the past, she is the fulcrum around which revolves the devilishly funny Khichidi every Tuesday at 8 p.m. on Star Plus. Itís the story of Mohan Niwas, an ancient bungalow that houses an ensemble of puckish women and their ridiculous spouses who are all united on one issue ó they hate the bungalow!
Supriya, who plays Hansa, says sheís loving every moment of it. Her last TV appearance was in real life husband Pankaj Kapoorís Mohan Das B.A.L.L.B. " I didnít get any exciting offers so instead of doing meaningless roles I took a break," says Supriya.
And now that the actress is back in business she is open to new offers but says sheíll consider only roles with a twist. "I donít want to keep doing the same things again and again," says the actress who made an award winning debut in Shyam Benegalís Kalyug.
Her film and television appearances may be spaced out now, but one thing that still excites her is a good role. And Khichdi fits in like a glove.
New face of Bhabi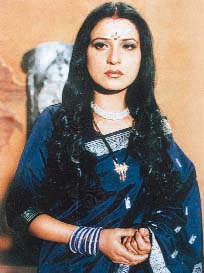 Dolly Sohi: New-look Bhabi
They all look inspired ó inspired by each other. Each one of the saasoo ma-bhaurani sagas have started resembling the other uncannily. Not just that. Even stars playing important cameos are changing ever so rapidly that the viewers are left confused.
Take the case of Bhabi at 1.30 p.m. Mondays to Fridays on Star Plus. Thereís a definite sense of deja vu ó similar sets, similar costumes, similar dialogues and a similar storyline ó a wicked woman pitched against an innocent lady. But then, like it or not, that themeís been the winning formula of Star Plus, making it the number one channel.
The similarities donít end there. In Kyunki Saas Bhi Kabhi Bahu Thi, three different stars have played the character of Mihir. Now Bhabi is following suit. Dolly Sohi comes in as the new Bhabi even as Neha Mehta walks out without so much as a curtain call.
But the saving grace is that Dolly is no stranger to the small screen. Sheís done important roles in serials like Kalash, Sanskruti and Aati Rahengi Baharen. With the experience she has confidently walked into the role of Bhabi and looks all too comfortable to deal with the twists and turns of the family saga.
Rahulís starry adventures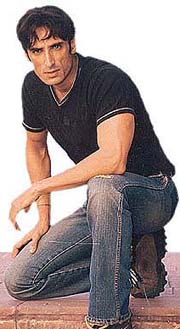 Rahul Dev: From super model to superstar
Bollywood had been beckoning him for sometime. But he says he wanted to be sure that he didnít falter in his debut. Which explains why he turned down Mira Nairís offer to act in Kamasutra because he felt it wasnít good enough as a first role.
With nothing much coming his way Rahul also toyed with the idea of picking up TV roles that were offered to him by the dozens. But then Champion happened and that changed his life forever. He chose to stick to film ó "at least for the time being," as he puts it.
Though Champion flopped, it made Rahul a champion star. What followed were films like Ashoka, Indian and Aawara Pagal Deewana. His forthcoming films include-88 Antop Hill Supari, Footpath , Adharm , Agnipath , Kyun Singhasan and regional films like Parshu Ram (Tamil) and Takri Donga (Telegu) where he has been nominated for south Filmfare Best Actor Award.
Today, Rahul is deluged with film offers but he says, "I accept only those roles where I can establish my identity. I donít care whether I am playing hero or villain."
But in real life, Rahul Dev is a man who has worked hard to be a hero to his countless fans. A teetotaller, his second home is the gym. And his passion is swimming and riding the Arabian horse that he recently bought. Surely life is on a fast trot for Rahul.
His story
His personal life may be mired in controversy but Michael Jackson the singer still reigns supreme. And hereís your opportunity to know all about your favourite star.
On Sunday May 4, Star World brings you Michael Jackson: The Interview They Wouldnít Show You. Here the superstar gets a chance to clean the air.
As a rebuttal to the documentary by martin Bashir titled Living With Michel Jackson, the singer has his outtakes from t he interview sessions, shot by one of his employee that he says will vindicate him. The two-hour documentary features Jacksonís personal footage from Bashirís interview, which he claims will tell the real truth about his life.
"Your relationship with your children is spectacular, "Bashir says on tape, adding, it almost makes him "weep" when he sees how caring Jackson is with his kids. This special also includes glowing reports on the star and his relationships with children from people like ex-wife Debby Rowe, mother of the singerís two oldest kids.
Like his spectacular videos, this oneís a slick PR job that should once again put a shine back on Jacksonís diminishing appeal.
ó Mukesh Khosla