Starving staff: Bihar told to deposit 50 cr
New Delhi, May 9
In a major relief to 88,000 starving employees of public sector corporations and government undertakings in Bihar, the Supreme Court today directed the state government to deposit within two months, in two equal instalments, Rs 50 crore with the Patna High Court for disbursement of salaries of the employees not paid for several years.



PM bereaved
New Delhi, May 9
Prime Minister Atal Bihari Vajpayee's sister Urmila Mishra died at the All-India Institute of Medical Sciences (AIIMS) after a protracted illness here early today. She was 72 and is survived by three sons and two daughters. The body is being taken to her native place Gwalior by road for cremation. UNI

Bill of judicial officers' pay introduced
New Delhi, May 9
The government today introduced in the Lok Sabha a Bill to provide for the regulation of salaries of judicial officers in the Union Territories. The Bill, introduced by Law and Justice Minister Arun Jaitley, seeks to provide scale of pay of the judicial officers in the Union Territories and special judicial allowance at the rate of 10 per cent of their basic pay.

Joshi completes one year as LS Speaker
New Delhi, May 9
Lok Sabha Speaker Manohar Joshi was congratulated today by the members for completing one year in office. "I will be actually congratulated when not even a single member enters the well of the House," the Speaker said while responding to the members gesture.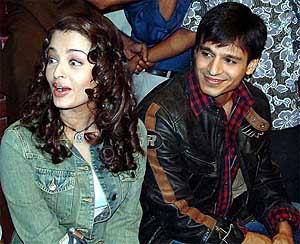 Aishwarya Rai and Vivek Oberoi during the shooting of Samir Karnik's "Kyun ho Gaya Na" in Mumbai on Thursday. — PTI
NORTH INDIA IN PARLIAMENT
LIG housing scheme for UT mooted
New Delhi, May 9
There is a need for framing a housing scheme based on contribution of the employees and the employer towards the corpus of a housing fund, the Member of Parliament from Chandigarh, Mr Pawan Kumar Bansal, told the Lok Sabha today.
Scuffle over privilege move in LS
New Delhi, May 9
Insistence of BJP and Samata Party members to refer their notices of breach of privileges against leader of the Opposition Sonia Gandhi and Deputy leader of the Congress Parliamentary Party Shivraj Patil to the Privilege Committee led to a scuffle between Samata Party and RJD MPs in the Lok Sabha today.
Parliament adjourned
New Delhi, May 9
Both Houses of Parliament were adjourned sine die today after the three month-long Budget session. The session, which started on February 17 with President's address to members of both Houses, had 37 sittings.


Astra' test-fired
Balasore (Orissa), May 9
India for the first time successfully test-fired air-to-air short range missile 'Astra' from the integrated test range at Chandipur-on-sea, 15 km from here, today.
GSAT-2 orbit raised
New Delhi, May 9
The first orbit-raising operation of the GSAT-2, the experimental communication satellite placed in an orbit yesterday by the country's own Geosynchronous Satellite Launch Vehicle GSLV-D2, was successfully carried out this morning.
BRO to build road in Afghanistan
New Delhi, May 9
part of India's commitment to carry out developmental work in Afghanistan, the Border Roads Organisation will start the construction of a key stretch of a highway, linking the country with Iran.
VHP men held for trishul diksha
Bharatpur, May 9
About a dozen VHP and Bajrang Dal activists, including BJP district president, were arrested when they were receiving "trishul-diksha" at a temple here today, the police said.
2 collectors shifted in voters' list scam
Bhopal, May 9
The Madhya Pradesh Government has transferred the Collectors of Khargone and Shahdol for alleged irregularities in preparation of electoral rolls in the state.
Video
The long working hours of professionals of the 21st century has resulted in showing up physical dysfunctions.
(28k, 56k)