Consensus on Pak, Sonia tells US
Tribune News Service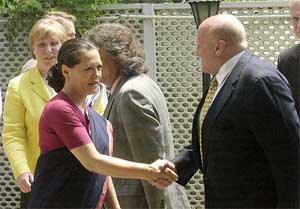 Congress President Sonia Gandhi shakes hands with US Deputy Secretary of State Richard Armitage at her residence in New Delhi on Saturday, while Assistant Secretary of State Christina Rocca looks on. — PTI photo
New Delhi, May 10
Congress president Sonia Gandhi today told the US Deputy Secretary of State Richard Armitage that there was a consensus within the country in regard to Indo-Pak relations which was also reflected in the recent discussion in the Lok Sabha.
Mr Armitage, who was accompanied by US Assistant Secretary of State Christina Rocca and US Ambassador to India Robert Blackwill, had a 40-minute meeting with Ms Gandhi at her residence.
Congress chief spokesman Jaipal Reddy said Ms Gandhi and Mr Armitage discussed regional, international and bilateral issues.
Describing the meeting as "useful and informative," Mr Reddy said the situation in Afghanistan, Iraq and Sri Lanka also figured in the meeting.
Reacting to the reported statement of National Security Advisor Brajesh Mishra about strategic partnership between India, USA and Israel, Mr Reddy said the Congress was unable to understand how Israel had come into the picture.
"We don't think Mr Mishra would have referred to strategic partnership with Israel without clearance from the Prime Minister. This reference is not inadvertent because this was exactly the formulation of Mr L.K. Advani soon after 9/11. If terrorism is faced by Israel, it is also faced by Russia," he said.
Mr Reddy said the obsession with Israel on the part of the NDA government was "strong and perverse." Warning the government against upsetting the consensus built around the time-tested foreign policy, Mr Reddy said the reference had been made by Mr Mishra at a time when Israel was facing isolation. "It is an indication of intellectual bankruptcy," he said.
The spokesman said the problem faced by Israel was qualitatively different from India and the US. "There should be some minimum ideological consensus between countries having strategic partnership," Mr Reddy said.
On the order about forensic examination of Tehelka tapes, Mr Reddy said the Congress was shocked to note that the government had pleaded with the Phukan commission for sending Tehelka tapes for forensic examination.
Mr Reddy asked if senior defence persons could be acted against on the basis of Tehelka disclosures, why not the politicians.
He accused the government of trying to delay and subvert the Tehelka probe.