HOROSCOPE
THE TRIBUNE MAGAZINES
On alternate Mondays

On Sundays
On Saturdays
IN PASSING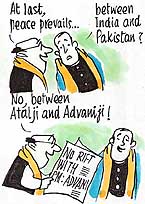 by Sandeep Joshi
PERMANENT SECURITY COUNCIL SEAT
UK backs India's stand
London, May 10
Britain has once again backed India's place for a permanent seat in the UN Security Council. British Foreign Secretary Jack Straw during the Sixth Indo-British Round Table here supported stand for a permanent seat at the Security Council.
Kala Afghana declared 'tankhaiya'
Amritsar, May 10
A Canada-based Sikh scholar, Gurbaksh Singh Kala Afghana, who has authored a set of 10 books, "Bipran Ki Rit Sach Da Marg" has been declared 'tankhaiya'.
FATEHABAD BYELECTION
Cong factionalism comes to fore
Fatehabad, May 10
"Hum na sudhren gey." This seems to be the guiding principle of the faction-ridden Haryana Congress which is engaged in a battle for survival in the Fatehabad assembly constituency scheduled to go for a byelection on May 21.
8 die in factory fire
Ludhiana, May 10
As many as 10 persons are feared dead and 85 others injured, 15 of them seriously, in a massive fire that broke out in a hosiery factory located in a narrow lane of Khud Mohalla near the Civil Hospital today.
Poetess close to UP politicians murdered
Lucknow, May 10
Mystery shrouds the last night murder of a 24-year-old poetess, considered close to certain politicians, here even as the Samajwadi Party demanded a CBI probe into the incident.


Cancer fear stalks Hamidi village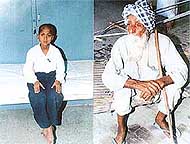 Hamidi (Barnala), May 10
Hamidi, known as the village of Chand Singh Chopra, a former CPM MLA, has been in the grip of cancer for the past 15 years.

Ved Pal (13) who is suffering from cancer and Mr Kapoor Singh (70) who has been fully cured at Hamidi village (Barnala).

India differs with Armitage
May 10, 2003

Vajpayee rules out denuclearisation
May 9, 2003

Menon's name as envoy sent
May 8, 2003

Brajesh meets Armitage on way to USA
May 7, 2003

Jamali confers with parties
May 6, 2003

PM names LCA as 'Tejas'
May 5, 2003

Pak PM Jamali invites Vajpayee
May 4, 2003

India renews peace initiative
May 3, 2003

RSS cautions govt on talks with Pak
May 2, 2003

FM rules out VAT from June 1
May 1, 2003