But there is not much reason to worry about the calorie count because one typical complete Assamese dish contains just about 350- 400 calories. This is generally due to less use of spice or oil. So wedded to health are the people of Assam that after trying out the much-publicised refined cooking oils for while, they have chosen to revert to good old mustard oil because of its curative properties.
It is not just the dishes that are exotic but even the way food is consumed that is of interest. The traditional way to have food is to sit on a floor with hand-woven bamboo mats. Eating with hands is not thought to be bad table manners. Getting your hands dirty is not a deterrent because there is always someone ready with a jug of water and huge bowl to make you wash your hands before and after a meal.
Even the manner in which the plates are laid on the table gives an insight into the family hierarchy. Heavier plates made of bell metal spell respect and clout and are reserved for the elders while others get to eat in the normal steel plates. Bone china crockery is reserved for guests. Though outside influences have made an impact on eating customs, marking a shift from eating on bamboo mats to dining tables, the assamese have still clung to old food habits as well as eating on locally produced bell metal plates.
Spinach khar
Serves 4
Ingredients
Spinach 150gm.
Cooked rice 50 gm
Soda bicarbonate 1/4 tsp
Salt to taste
Mustard oil 2 tbsp
Ginger 10 gm
Fenugreek seeds 1/4tbsp
Water 500 ml.
Method: Chop the spinach after thoroughly washing it. Chop the ginger. Pour the oil in pan, put the methi and once it is cooked add the chopped spinach, soda, rice and fry a little. Pour the water and add the chopped ginger as a finishing touch.
Roasted fish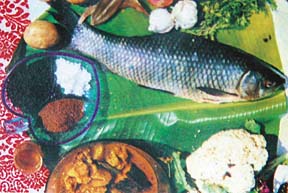 Fish is a staple part of the Assamese cuisine
Serves 4
Ingredients:
Fish 250 gm
Mustard seeds 2 tbsp
Onion 25 gm
Green chillis 2
Mustard oil 4 tbsp
Salt to taste
Method: Wash the pieces of the fish. Chop onion, chillis and grind the mustard seeds to a fine paste. Add all the ingredients along with salt and oil. Now coat the fish pieces with the paste, wrap it in banana leaf and put it on an open fire. Garnish with coriander leaves.
Rohu fish in curd
Serves 4
Ingredients:
Rohu fish 250 gm
Curd 1 cup
Jeera 2 tbsp
Salt to taste
Turmeric powder 1 tsp
Mustard oil 100 ml
Dry red chillis 4
Capsicum 75 gm
Onion 100 gm
Sugar 1 tsp
Water 2 cups
Elaichi, dalchini 1 tsp
Method: Wash the fish pieces and coat with turmeric and salt. Make a paste of jeera and dry chillis. Put oil in a pan and fry the fish. Put the spices, turmeric, chopped capsicum, salt and sugar into the remaining hot oil. Stir the ingredients for a while and then pour the curd into it. Let it cook for a while and then pour water. When it comes to a boil add the fried fish. Top with elaichi and dalchini paste.