A hit & a miss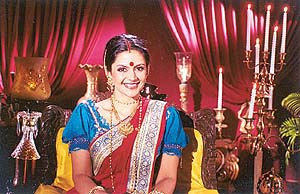 Mandira presenting Devdas: Silly point!
Some have just dismissed her as a joke on sports. Others have laughed at her gaffes. While the uncharitable ones have called her cricket's first 'bimbo'.
Call her what you like, the fact is no one could ever have imagined that this small-time star would one day become the dream stuff for high-voltage gossip. Ever since the World Cup, reams and reams have been written about Mandira Bedi's silly points in cricket.
As a spin-off, she has already signed a Tamil film, Lingam and is looking at some Bollywood offers coming her way. But it's television where she's making waves again. Cashing in on her somewhat dubious popularity, Max has retained her as an in-house attraction for all its important events.
On April 27, she gave an interactive presentation of Devdas on Max. The channel's Executive Vice-President Rajat Jain said the film had been a runaway success amongst all categories of audiences. "And the icing on the cake was Mandira's unique and disarmingly personal presentation of Devdas to our viewers." It sure pays to wear those noodle string blouses and see-through sarees!
Love's labour found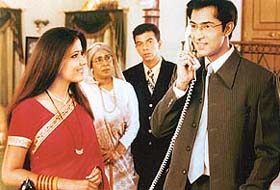 A scene from Piya Ka Ghar: Scaling the charts.
It has been making a quiet ascent on the charts without fanfare or publicity. Yet, Piya Ka Ghar, Sunday to Thursday on Zee TV at 7:30pm has been engaging the attention of women viewers.
The story revolves around two village families which are very close to each other. The problems arise when the next generation grows up and the families go their own ways. One stays back in the village the other moves to the city.
The central character of the soap, a chirpy young girl Rimjhim walks out of her village home and heads for the big city in search of love and comfort in her childhood sweetheart's home.
Though she soon realises that life is not always a bed of roses, she quickly starts making necessary adjustments to make her life happy in the big bad city.
The storyline may be trite and hackneyed but the soap has been notching robust TRPs thanks mainly to a spirited performance by Narayani who plays the protagonist. Those who like mushy stuff will find it immensely absorbing.
Spiritual uplift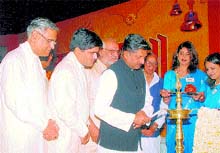 Sadhna Channel inauguration: Preaching Indian values.
In the frenetic race to the top it's becoming increasingly tough for a newcomers to carve a niche for themselves. But there's one that claims to have risen above the clutter of the ever-proliferating news and religious channels.
The aim of the 24-hour Sadhna Channel, launched on April 18, is to "illuminate the lives of exhausted human souls." Managing director Rakesh Gupta says the devotional channel will present informative and educative programmes to lift the spirit of viewers.
Though camera teams are already recording discourses, bhajans and jagrans in numerous temples and religious spots around the country, Gupta is quick to clarify that his is not just another religious channel.
It will also feature animation films for children, meaningful talk shows and serials. For example, there is a serial outlining the work profiles of different ministers titled Hamare Numainde, as also Antakshri and a show featuring patriotic film songs. There would also be programmes for all age groups based on Vedas, religious scripts and epics.
No doubt a virtuous concept. The challenge, of course, would be to wean away a generation opiated by Ekta Kapoor's 'K' syndrome.
Baby's day out
Childbirth, while intrinsically the same throughout the world, carries with it emotional and cultural implications that vary greatly from country to country.
World Birth Day 2003, Sunday, May 11, at 7 pm. on the Discovery Channel, commemorates Mother's Day throughout the world and celebrates the future of mankind with every new birth.
The two-hour special spans 18 time zones to capture families sharing the common experience of childbirth in eight countries across five continents on the same day. From Mumbai to Hiroshima, from Vladivostok to Belfast and from Soweto to Memphis the programme contrasts the very different preparations of various regions.
It also showcases the emotions experienced by mothers during and after giving birth, providing viewers a glimpse of how the first day of life begins in different parts of the world. An absorbing show, especially for viewers who've been through the experience.
Kidnapping drama
If you enjoy thrillers, here's some action you should not be missing. Ransom on Monday, May 12, at 9.30 pm. on HBO, is a tense film that explores the brutality and intensity of contemporary life.
Starring Mel Gibson in one of his most powerful roles, the film exposes the perils of modern day life, especially for the wealthy and famous. The story revolves around an independent airline magnate who has all the trappings of success—a beautiful wife (Rene Russo) a smart son, a penthouse, an enviable position in society and high media visibility —which proves to be his undoing as his son is kidnapped. What follows is a taut war of nerves between the kidnapper and the defiant tycoon.
Gibson brings his charisma and individuality to the demanding role while Rene Russo stands out as his suffering wife. However, the surprise package of the film is the son, played by Brawley Nolte, who in real life is the son of actor Nick Nolte. Don't miss this powerful movie which was a global hit when it was first released.
— Mukesh Khosla