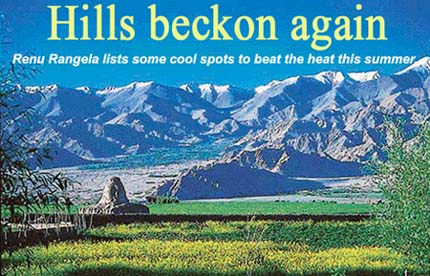 IT is the beginning of summer and temperatures are already soaring. The northern plains of the country are never the best of places to spend the summer but travel agents expect a virtual exodus to the cool environs of the hills to escape the scorching heat this year. No wonder they are all beaming from ear to ear despite the turmoil in the Gulf and the SARS epidemic closer home.
A sangam, thanks to the Ganga
Tirtho Banerjee
AMIDST the chanting of Vedic mantras, the couple took rounds of sacred fire followed by seven steps. The man applied sindoor on the woman's forehead. They garlanded each other and thus their marriage was solemnised according to Hindu rites in an Arya Samaj Temple in Kanpur on April 8 this year.
TALKING POINT
Mums are the most reliable chums
Deepali Nandwani
MOMS aren't what they used to be. Mothers ruling their daughters with an iron hand seem like figments of a fevered imagination. The mother-daughter relationship has evolved. Moms are no longer, well, just mothers.
LOOKING AHEAD
Will the robot replace the maidservant?
Shirish Joshi
MITSUBISHI Heavy Industries of Japan have developed a robot called Wakamaru, which combines the roles of nurse, companion and security guard. It will be available soon to help the senior citizens of Japan, who live alone and have no one to look after them.