Spicing up the server scenario
Roopinder Singh
Servers that serve computers are actually more powerful than the computers that they serve, an interesting paradox. When we talk about a server, we are referring to a powerful computer connected over a network to a large number of computers. It shares data and/or applications with them. Servers in office environments have practically been monopolised by the Windows operating system (OS).

Video jukebox for music lovers
Chitrabhanu R.K.
If you like watching music while listening to it, a new video jukebox that is making an appearance at several hip-eating joints in the Indian capital will make life more fun. The walls of outlets like Eatopia, Caf`E9 Coffee Day and Superstore in Delhi are donned with huge plasma-screens and funky touch-screen pads that one can dabble with to get a wide range of digital music. These eating joints already report a queue of youngsters lining up to experiment with the video-machine.

E-commerce models
Mukesh Kumar
THE WTO defines e-commerce (e-com) as a commercial process that includes production, distribution, sales and delivery of goods, i.e. services through electronic means. E-com is associated with the buying and selling of information, products and services via computer networks. In other words doing the business on the Net and making the transactions through the Net is called e-com.

Convergence or divergence?
Deepak Bagai
It is a known fact that, presently, we are existing in an era of global communications revolution. The growth of the Internet has paved the way for the emergence of a global village. The term, convergence, has gained prominence due to the ever increasing needs of the consumer to have one box, one network and one service provider for voice, video and data transmission.

Apple of accord
Duncan Martell
Apple Computer Inc. unveiled a service that lets music fans download songs for 99 cents each, on a Website that Apple called simple and cheap enough to compete with the free song-swap sites the record industry blames for its slump.

IT WIT
by Sandeep Joshi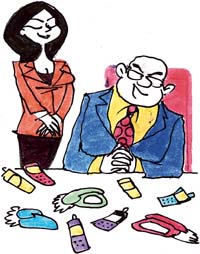 Now, tell me, which one would be most economical for calling my wife on her landline in Bangalore at 10 p.m.?
Selling through phone's receiver
Vijay Satokar
Remember whom did you last give your business card to and where? Casually giving your business card may earn somebody a good business but flood you with unwanted calls from credit card companies, estate agents, car financers and cellular phone operators.


Software helps women get STARTed
Shruti Gupta
Lata (25) used to be just another housewife in a small village in Hoshangabad district, Madhya Pradesh. She wanted to work to supplement her family income, but she was illiterate, inexperienced and her husband didn't want her to go out among strangers, especially men.


Book online and travel at leisure
Shalini Singh
April 16, 1853, will always be written in golden words not only in the history of Indian Railways but also in the history of India. This was the day when the first train moved from Mumbai to Thane. In order to make our travel more enjoyable and comfortable, Indian Railways Catering and Tourism Corporation Limited (IRCTC) was incorporated under the Companies Act, 1956.

US IT titans back outsourcing to India
Vasantha Arora
Even as a media and government outcry against shipping jobs overseas continues in the USA, big industry names still seem keen to outsource IT work to India. US telecom giant, Sprint Corporation, is wondering whether to send IT work to India in a bid to save hundreds of millions of dollars.