Duststorm upsets life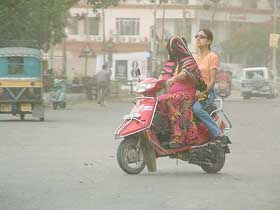 A girl tries to protect her face in the squall that hit Jalandhar on Tuesday evening.
— PTI photo

Multi-crore PDS kerosene scam unearthed
Bathinda, May 13
The police here has detected a scam under which the kerosene meant for distribution among poor people at subsidised rates through fair price shops was being sold to a petrol station in Punjab and Haryana for the past several months.
Notification soon on construction ban
Chandigarh, May 13
With the Central Government notification regulating construction activities within a specified distance from military installations having "lapsed", a fresh notification is expected to be issued by the Ministry of Defence (MoD) shortly.
Criminal cases against colonisers
Patiala, May 13
The Municipal Corporation today decided to get criminal cases registered against owners of as many as 10 unauthorised colonies coming up in the city who have uprooted boards put up by the corporation warning the public against buying any land in the upcoming colonies.
TRIBUNE FOLLOW-UP
Dangs had raised land-grab issue
Amritsar, May 13
Even as sleuths of the internal vigilance, Local Bodies, Chandigarh, have seized the entire case record of encroached 7.5 acres of prime land purchased from the Jammu and Kashmir Government for the extension of a government school, former communist MLAs Satya Pal Dang and Bimla Dang have made startling revelations, consistently raising the issue on the floor of the state Assembly during their respective tenures.
Pahal's effort to conserve water
Jalandhar, May 13
'Pahal' an environment conservation organisation, under the National Environment Awareness Campaign of the Ministry of Forests and Environment organised a programme on rain-water harvesting at wonderland theme park on the Nakodar Road here yesterday. Demonstrations on rainwater harvesting and recharging were held.
Tohra opposes casinos in Punjab
Chandigarh, May 13
Former SGPC chief G.S. Tohra has opposed the opening of casinos in Punjab. In a letter written to the Punjab Chief Minister, Mr Tohra has urged the state government to drop the move to set up casinos and find other sources for generating revenue.


Leader re-admitted to Congress
Hoshiarpur, May 13
Mr H.S. Hanspal, president, Punjab Pradesh Congress Committee, re-admitted Mr Sunder Sham Arora, a political leader of Hoshiarpur, along with his supporters into the Congress today.
Shiv Sena men burn govt's effigy
Kapurthala, May 13
Activists of Shiv Sena (Bal Thackeray) today burnt the effigy of the Punjab Government in protest against the recent hike in the sewerage, water supply, power and telephone charges.


| | | |
| --- | --- | --- |
| | | |
Illegal felling of trees in Bathinda cantt
BATHINDA: Braving adverse climatic conditions army personnel toiled hard for two decades to convert thousands of acres of sand dunes in Asia's biggest cantonment here into lushgreen forests by extensive plantation of different varieties of trees.


| | |
| --- | --- |
| | Women take away wood cut from trees in the Bathinda cantonment area; and (right) a view of trees cut illegally by residents of villages surrounding the cantonment. |
NGO apprises Chief Secretary of problems
Chandigarh, May 13
A deputation of the local NGO, Jagriti Foundation, met Mr Rajan Kashyap, Chief Secretary of Punjab, here today to apprise him of the problems being faced by the 60,000 persons settled in the 'beet' area, comprising 27 village panchayats in the Garhshankar tehsil of Hoshiarpur district.
HIGH COURT
Notice issued
Chandigarh, May 13
Issuing notice of motion on a petition filed by Punjab's former Agriculture Minister, Gurdev Singh Badal, challenging an order dismissing his application for discharge in an alleged corruption case, Mr Justice Virender Singh of the high court directed against the framing up of charges by the trial court.
Lawyers to boycott SDM's court
Faridkot, May 13
Members of the District Bar Association, Faridkot, have decided to boycott the court of SDM Devinder Singh indefinitely following his alleged indifferent attitude towards lawyers in the recent past here. The decision was taken at a meeting of advocates at the Bar office here today.
Thandal case: 1 remanded in custody
Kharar, May 13
Mrs Preeti Sahni, Judicial Magistrate, here today remanded Nirmal Singh police custody till May 15. He was arrested by the Vigilance Bureau (VB) and is one of the alleged accomplices of former Akali minister Sohan Singh Thandal.
No action in bribery case
Bathinda, May 13
Two PUDA officials, who were caught red-handed while allegedly accepting bribes by the Vigilance Bureau, have not been placed under suspension by the authorities concerned.
Farmer loses foot in mine blast
Fazilka, May 13
Surjeet Singh (24) of Mumbeke village of Fazilka sub-division was injured in a mine blast on Sunday morning. According to details the Army had certified that fields of Surjeet Singh were de-mined yesterday.
Licences of 32 chemist shops suspended
Chandigarh, May 13
The Punjab government has issued instructions that no chemist shop will sell any schedule-H drugs without the prescription of a registered medical practitioner.
Octroi evasion: action sought
Amritsar, May 13
Seeking immediate action against the importers and staff members of the Octroi Department allegedly involved in the evasion of octroi levied on the sugar imported from Pakistan, Mr Surinder Kumar Billa, president of the All-India Hindu Shiv Sena sought the registration of cases against the persons involved.
Response to shoe-shine campaign 'encouraging'
Hoshiarpur, May 13
Shoe-shinning campaign by Mr Abinash Rai Khanna, BJP MLA from Garhshankar for raising funds for the repair of the Garhshankar-Hoshiarpur road was widely lauded.
"No clergy-like role for jathedars"
Chandigarh, May 13
Dr Jasbir Singh Ahluwalia, a wellknown Sikh scholar and former Vice-Chancellor, Punjabi University, Patiala, said today that there was no clergy-like role of Takht jathedars in Sikhism.
Police excesses alleged
Gurdaspur, May 13
A case of alleged police excesses has been reported at Dhariwal police station here in the district. Mr Satnam Singh, a resident of Kaler Kalan, was allegedly beaten up by the police on May 11.
Junior engineers sit on fast
Patiala, May 13
A batch of seven Junior Engineers of the Central Zone today sat on a fast as part of chain fasts being held by JEs to protest against the state government's move to dismantle and privatise the Punjab State Electricity Board (PSEB).
PCMS Assn objects to electoral rolls
Chandigarh, May 13
The Punjab Civil Medical Services (PCMS) Association has alleged gross irregularities in the ongoing process of holding elections for three vacancies in the Punjab Medical Council (PMC).
No new cancer case in Hamidi
Sangrur, May 13
Three teams of doctors today completed the check-up of the entire population of Hamidi village, near Barnala, to detect cancer cases.
Probe ordered into sale of blood
Bathinda, May 13
Dr S.K. Goyal, Civil Surgeon, Bathinda, today asked Dr Jagjit Singh, District Family Planning Officer, to hold a probe into the sale of two units of blood to a patient, who was operated upon for removal of a stone in uterus in a private clinic here.
450 examined at TB camp
Fazilka, May 13
The Social Welfare Society, Fazilka, organised sixth annual TB check-up camp. The two-day camp, which concluded on Sunday, was organised in memory of late Bhiranwa Bai and Hari Chand Kalra.
Red Cross turns saviour
Faridkot, May 13
The District Red Cross Society, has saved the lives of three deserted mentally-challenged children, including two girls, by providing them timely and proper medical aid during the past five months.
Hepatitis-B camp held
Patiala, May 13
The Rotary Club Patiala Midtown in association with the State Bank of Patiala, The Mall, Patiala, organised a free hepatitis-B camp at Government Primary School, Rajpura Colony, Patiala, on Tuesday.
Meeting discusses anti-malaria steps
Bathinda, May 13
The district authorities have decided to observe next month as anti-malaria month.
Nurses told to dispel myths about AIDS
Bathinda, May 13
The State Institute of Nursing at Badal, near here, observed the International Day for Nurses yesterday by holding a seminar on HIV/AIDS.
Suicide by farmer in debt
Jeon Singhwala (Bathinda), May 13
Mr Harcharan Singh alias Harna, a young farmer of this village, 23 km from here, committed suicide by hanging from ceiling fan in his house today. He was said to be under heavy debt.
Traffic park to educate public
Bathinda, May 13
To educate the schoolchildren, truck drivers, state government drivers and other section of societies, a traffic park is coming up near the Rose Garden in the city.
Retired teachers resent non-payment of pension
Faridkot, May 13
Resentment prevails among 2,500 retired teachers and heads of government-aided private schools against the indifferent attitude of the Punjab Government towards the payment of their pensions for the past three years.
Speedy disposal of pension cases
Chandigarh, May 13
Mr Nand Lal, Accountant-General of Punjab, said today that a new system of day-to-day monitoring of pension cases had been put in place here.
PSEB extends bill payment date
Patiala, May 13
The Punjab State Electricity Board (PSEB) has extended the cut-off date for depositing outstanding dues by agricultural consumers to May 31 even as it warned that those failing to pay their bills will face disconnection of their power supply.
Wheat stubble being burnt despite ban
Bathinda, May 13
A customary ban imposed by the district magistrate has failed to deter the farmers from burning wheat stubble in at least 20 per cent of the total area. The authorities concerned have reportedly failed take any action against erring farmers.
Markfed to get special cell
Chandigarh, May 13
The Punjab Minister for Finance and Cooperation, Mr Lal Singh, has ordered the creation of a special cell in Markfed to deal with cases regarding misappropriation of paddy stocks.


Water schemes dry up due to fund paucity
Bathinda, May 13
Due to paucity of funds various projects launched by the government for providing drinking water in rural areas, are either not complete or are inadequate for the population of various villages.
2 minor girls abducted
Amritsar, May 13
Two sisters — Sunita (17) and Sonia (15) — were allegedly abducted by two persons from the Navi Abadi area here two days back.
Four held for theft
Jalandhar, May 13
The police claims to have arrested four persons. According to the police, the Goraya police raided a place near cremation grounds in Goraya and arrested four persons with weapons.
Hony secy of Khalsa College removed
Amritsar, May 13
The president of Khalsa College Governing Council, Mr Raj Mohinder Singh Majitha, today removed the honorary secretary of the college, Mr Bhag Singh Ankhi.
Primary education in mess
Gurdaspur, May 13
Primary education in the district is in a mess. Vacancies of teacher and lack of infrastructure have worsened the situation.
Lecturer's explanation sought
Amritsar, May 13
The Dean Academic Affairs, Guru Nanak Dev University has reportedly sought explanation of Ms Anita Tamarkar a lecturer in the Physical Education Department, here for allegedly defying the Head of the Department.
Poor upkeep of colleges: probe ordered
Ropar, May 13
Mr Harnam Dass Johar, Minister for Higher Education, has lamented the unclean premises and dilapidated buildings of the government colleges at Ropar and SAS Nagar. Addressing a press conference after his visit to the colleges today, he said the maintenance of the buildings was being neglected.