THE TRIBUNE MAGAZINES
On alternate Mondays

On Sundays
On Saturdays
IN PASSING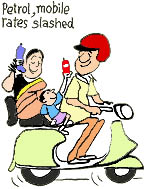 They have rolled back and the nation has become truly mobile.

by Sandeep Joshi
Railways begins hunt for clues
Ludhiana, May 16
Clueless about the cause of the fire that killed 38 persons aboard the Golden Temple Mail on yesterday, the Indian Railways has started an inquiry to ascertain the cause that set fire to three bogies of the train.


In video (28k, 56k)


Railway Safety Commissioner Bhupinder Singh inspects the burnt coaches of the Amritsar-bound Golden Temple Express in Ludhiana on Friday. — Tribune photo Pradeep Tewari
Did a bag cause the fire?

Mass cremation today

'Teeth helped' in identifying body

Meeting on rail mishap

SGPC gesture to train victims

Editorial: Chalta hai attitude

Nation Page: Nitish for closing 57 unviable lines


Supreme Court seeks reply on Panipat-Jalandhar road tax
New Delhi, May 16
The Supreme Court has sought a reply from the Centre and the National Highway Authority of India on a petition seeking a stay on the tender process for collecting toll tax on the national highway between Panipat and Jalandhar.
Rs 1.10 lakh looted from SBI branch
Jalandhar, May 16
In a broad daylight robbery, 11 masked robbers looted over Rs 1.10 lakh at gunpoint from a branch of the State Bank of India in Chitti village, near here, today.


Panchayats loot crores from sangat darshan
Amritsar, May 16
Preliminary inspection of government funds distributed by the SAD-BJP government before the Assembly elections has revealed that crores of rupees have been embezzled by many panchayats in connivance with officials of the Rural Development Department. The survey of four out of 16 blocks of this border district, conducted by Additional Deputy Commissioner Harbhupinder Singh Nanda, detected embezzlement of about Rs 1 crore.
In Sports Tribune Today
Burning train claims 38 lives
May 16, 2003

US to put pressure on Pak
May 15, 2003

29 killed in Saudi bombings
May 14, 2003

Mufti for 'softening' of LoC
May 13, 2003

13 die in Bengal poll violence
May 12, 2003

Terror must end, India tells US
May 11, 2003

India differs with Armitage
May 10, 2003

Vajpayee rules out denuclearisation
May 9, 2003

Menon's name as envoy sent
May 8, 2003

Brajesh meets Armitage on way to USA
May 7, 2003