Mann, Badal differ on PHRC appointments
Chandigarh, May 17
Mr Simranjit Singh Mann, a member of Parliament and President of the Akali Dal (Amritsar) differs with a former Chief Minister, Mr Parkash Singh Badal, on the issue of appointments of members to the Punjab State Human Rights Commission.
POSTINGS & TRANSFERS
30 IAS officers transferred
Chandigarh, May 17
In a major administrative reshuffle, the Punjab Government today ordered transfer of 30 IAS and 28 PCS officers, including eight Deputy Commissioners and 18 Subdivisional Magistrates. The Commissioners of municipal corporations of Patiala, Bathinda and Amritsar were also changed. Amritsar, Bathinda, Fatehgarh Sahib, Faridkot, Ferozepore, Ludhiana, Mansa and Nawanshahr will have new Deputy Commissioners.

Seven of a family cremated in Ludhiana
Ludhiana, May 17
Bodies of all those who perished in the fire that broke out in the three compartments of the Frontier Mail on Thursday have been identified. After three days of hectic investigations and post-mortem examination of the badly mutilated bodies, railway officials have put the number of dead at 36.


Frontier Mail fire victims' mass cremation at Ludhiana on Saturday. — PTI photo
Teachers not paid salaries for months
Bathinda, May 17
The teachers of about 500 government-aided schools and some teachers of the state-run schools have not been paid their salaries since February this year, allegedly due to the non-allocation of the budget by the state government.
BJP workers protest against leaders
Hoshiarpur, May 17
Mr Brij Lal Rinwa, president, Punjab BJP, here today faced an embarrassing situation when about 100 local BJP workers led by Mr Bhagwant Kishore, district general secretary, Mr Shiv Sud, city president, Mr Gian Bansal, district president of the Beopar Cell, Mr Sat Pal Sareen, former president, municipal council and Mr Mohan Lal, a BJP leader, demonstrated and shouted slogans against Mr Hans Raj Nakra, district president, for his "dictatorial attitude" towards party office-bearers and leaders.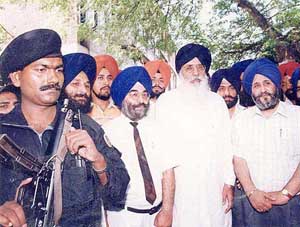 Shiromani Akali Dal chief Parkash Singh Badal comes out of District Courts after attending the proceedings of a defamation case against Punjab Chief Minister Amarinder Singh in Chandigarh on Saturday. — PTI
Kanwaljit admits to mistakes during rule
Patiala, May 17
The Shiromani Akali Dal general secretary, Capt Kanwaljit Singh, today said that the party leadership had committed some mistakes during its rule in the state, and that these should be rectified.
Pawar to lead MPs' delegation
Bathinda, May 17
Mr Sharad Pawar, President, National Congress Party (NCP), will lead a delegation of Members of Parliament (MPs) of India to Pakistan shortly to reciprocate gesture of Pakistan MPs who visited India recently.
SAD meeting
Bathinda, May 17
The district unit of the SAD today said that the party would adopt legal course if the Congress tried to win coming panchayat elections through unfair means. Office-bearers of the unit said at a meeting held here that they would not allow the Congress to misuse state machinery in panchayat elections, like they had allegedly done in the municipal council, zila parishad and block samiti elections.


Doc told to pay Rs 4 lakh compensation
Pathankot, May 17
The State Consumer Disputes Redressal Commission, Punjab, has directed two doctors of private hospital here to pay Rs 4 lakh compensation following deficiency in service to Janak Raj's son who died.
Dalit committee stages protest
Jalandhar, May 17
Members of the Dalit Action Committee here today staged a protest by showing black flags outside the venue of the divisional meeting of senior police and civil officials being chaired by the Chief Secretary, Mr Rajan Kashyap, against the failure of the state government to resolve the issue pertaining to the alleged boycott of Dalits of Talhan village by members of the Jat community about four months ago.
Water supply scheme inaugurated
Fatehgarh Sahib, May 17
All ministers and MLAs of the Congress will work with dedication for the overall development of the rural sector and the villages will be provided new look under the Integrated Rural Development Programme (IRDP) within few years.
Bid to grab Khalsa College land
Amritsar, May 17
Intervention by the Khalsa College management committee thwarted the attempt by a group of armed men to grab the college land on the Ram Tirath road.
Rival groups stage dharnas
Death of Mehma Sawai village youth
Bathinda, May 17
Tension prevailed near the local district courts today as two groups of villagers staged dharna there against each other. On group led by the Dalit Sena, an association which claims to protect the rights of the Dalits, alleged that the sarpanch of Mehma Sawai village was behind the murder of Baljit Singh, a resident of the same village on the night of April 2.
Baradari walkers symbols of changing Patiala
Patiala, May 17
Residents of this garden city, particularly womenfolk, seem to have finally shrugged off the cloak of conservatism and the donned the mantle of modernity if the rush of revellers and walkers in morning and evening at the Baradari gardens any indicator.
Voters' lists as per rules: Registrar
Chandigarh, May 17
Responding to the ongoing controversy regarding the elections of the Punjab Medical Council, the Registrar of the Council, Dr A.S. Padda, said today that the voter lists had been prepared as per rules. He said at present there were 7468 doctors on the electoral rolls of the council while the number of registered doctors since 1947 was 34179 till the end of last calendar year.
Murder case of NRI: Khehra surrenders
Phagwara, May 17
Mr Bikramjit Singh Khehra, president of the Punjab Janata Yuva Dal, a prime accused in the murder case of an NRI, Mohan Singh, today surrendered in the court of Mrs Navjot Kaur Sohal, Sub-Judge, Junior Division here. The NRI was murdered here on February 23 and four persons had been arrested in this connection so far. Mr Khehra had been evading arrest.
IG's ex-PSO declared proclaimed offender
Amritsar, May 17
A court here today declared Gurdyal Ram, DSP and former personal security officer to the then Inspector-General of Police (border range), Mr Rajan Gupta, a proclaimed offender.
Pay claim for damaged car, company told
Ropar, May 17
The District Consumer Forum has directed the Oriental Insurance Company to pay compensation to Paramjit Kaur, a resident of Ludhiana.
HIGH COURT
Orders reserved in SGJC case
Chandigarh, May 17
A Division Bench of the Punjab and Haryana High Court, comprising Mr Justice Swatanter Kumar and Mr Justice Viney Mittal, today reserved orders on petitions pertaining to the functioning of the Sikh Gurdwara Judicial Commission (SGJC).
Directions sought

Member's suspension
'Medicine, astrology complement each other'
Patiala, May 17
What type of illnesses are you prone to? What will be the nature of the disease and its duration? How does one go about diagnosing a particular disease — do we take into account physical symptoms only? Some of these questions that have perturbed mankind for ages find ready answers in the science of astrology, says Dr Dinesh Sharma.
TV channel for Gurbani : SGPC to spend Rs 20 cr
Phagwara, May 17
The SGPC will spend Rs 20 crore on a television channel for relaying Gurbani from the Golden Temple. President of the SGPC Prof Kirpal Singh Badungar stated this here last evening. We had already allocated Rs 14 crore for it in SGPC budget for it, he informed.
Gurdev Singh is truck union president
Rampura Phul, May 17
Even as Mr Gurdev Singh, father of a close confidant of Chief Minister Capt Amarinder Singh, was unanimously elected president of the local truck union at a function here today, a section of truck operators boycotted the function to lodge their protest that no election was held for electing the executive of the union.
1.10 cr recovery effected at Lok Adalat
Ferozepore, May 17
At the Special Lok Adalat held here 451 cases were listed for settlement of cases of Co- operative development banks, Co-operative housing societies Abohar, Zira, Fazilka and Ferozepore.
15 complaints disposed of
Muktsar, May 17
Fifteen of the 35 complaints taken up at a meeting of the District Grievances Committee here yesterday were disposed of and the remaining sent to the officials concerned for necessary action.
Punctuality in offices priority of govt: CS
Jalandhar, May 17
The Punjab Government has decided to strictly enforce punctuality and attendance in all government offices and for any lapse in this regard, the Deputy Commissioners and the respective Heads of Departments would be held responsible.


Husband held for wife's murder
Bathinda, May 17
Iqbal Singh, a resident of Bath village, along with his brother Jaspal Singh and father Veer Singh were today arrested by the Nathana police for their alleged involvement in the murder of his wife, Kuldeep Kaur.
EO held in graft case
Fatehgarh Sahib, May 17
The District Vigilance Department yesterday arrested Mr Surinder Kumar, former Executive Officer of the Sirhind Municipal Council, presently posted as the EO of the Mahalpur Municipal Council for allegedly accepting a bribe of Rs 50,000 from Balbir Singh of Attewali village for passing the plan of his proposed school building.
Head injury led to death of prisoner
Patiala, May 17
The post-mortem examination of the 35-year-old Central Jail prisoner who died in the jail yesterday after he was reportedly beaten up by fellow inmates revealed today that his death had occurred following coma from the head injury.
Prize distribution function held
Amritsar, May 17
Veteran journalist Kuldip Nayyar has welcomed the peace initiative of Prime Minister Atal Bihari Vajpayee to normalise relations between India and Pakistan. He made the remark while presiding over the prize distribution function of Khalsa College here today.
GND varsity results by June 30
Amritsar, May 17
Guru Nanak Dev University would declare results of all examinations held in April last before June 30. Results of BA part I, II and III examinations would be declared on June 4, June 6 and June 10 respectively and the results could also be available on Internet.