Sunday, May 18, 2003
Books
Of mystery and adventure
Padam Ahlawat
The Rupa Book of True Tales of Mystery and Adventure
edited by Ruskin Bond. Rupa. Pages 236. Rs 295.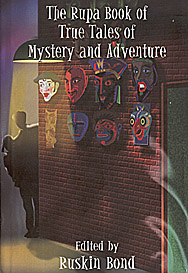 EACH one of the stories of mystery and adventure are interesting and superbly told. Ruskin Bond has spent a great amount of time and effort to search out these stories from old railway magazines and private collections. The authors of the stories deserve to have their works collected and edited into one volume. He has made their creations available for the readers. These are first-person accounts, which will now live on through their works and delight generations of readers.
They are a result of Ruskin Bond being on the lookout for old, forgotten or neglected books. He writes, "For it is in them that I have discovered many literary 'treasures' — stories and true life narratives that are worth reviving and preserving for the reading pleasure of new generations." Through his efforts, he has preserved their thoughts, feelings and works which would otherwise have been forgotten.
From an obscure forest rest house in Chakrata, he found several numbers of Blackwood's magazine which started publishing in the late 18th century. And from the second-hand bookshop of Calcutta, he found several volumes of the Indian State Railways Magazine dating from the 1920s and 1930s. It is from these sources that several of the fascinating stories and first-person narratives have been included in this volume.
A few errors do not rob the tales of their incredible adventures, and rich variety. The tales include the perilous journey from China to Lhasa. The extreme cold claims several lives of men and animals, but the band of travellers endure the perils of cold and robbers to reach Lhasa. A similar tale of endurance is shown by the shipwrecked in The Wreck of Strathmore. On a rocky barren island they endure the cold and rain until rescued after six months and twenty-two days. Amidst the fragility of human life is shown the endurance of human spirit. There is a story of Rajib Roy, a loyal and faithful friend, who saves the lives of a kind-hearted indigo planter from the mutineers in Bihar.