On offer would be comedies by names like Jaspal Bhatti, Shekhar Suman and Suresh Menon. Bhatti comes up with the delightful Dhaba Junction capturing the humour and bonhomie of the roadside dhabas in Punjab.
Shekhar Suman doubles up in Bade Miyan Chotte Miyan. Others like Sahib Biwi Ka Gulam and Hassi who Phassi guarantee viewers only smiles, no tears as the new logo goes.
Profiling celebrities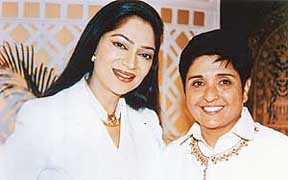 Simi with Kiran Bedi: Celebrities galore on Rendezvous.
Back in the seventies, she was the anglicised star of films like Siddharth and Mera Naam Joker who made a great telefilm on Raj Kapoor and a not-so-great one on Rajiv Gandhi.
Ever since then Simiís been in the news as a TV personality. Her Rendezvous with Simi Garewal on Star Plus is a show with a difference. Here celebrities ranging from film stars to politicians and from sportsmen to industrialists pour their hearts out to her.
The guest list has included the whoís who of the nation like Ratan Tata, Mukesh and Nina Ambani, Anil and Tina Ambani, Amitabh and Jaya Bachchan, Hrithik Roshan, Jayalalitha, Maneka Gandhi, Benazir Bhutto and many more.
In the coming episodes viewers meet A.R. Rahman, Bipasha Basu, Abhishek Bachchan, Kiran Bedi, Ustad Amjad Ali Khan and Govinda.
Simi has no plans of going back to the silver screen. She says her medium is television and she may not be averse to examining other good offers. But, she adds, "Once Rendezvous is over Iíll attempt another project."
If gossip is to be believed, that project is a telefilm on the life and times of Amitabh!
Exit Kashmeer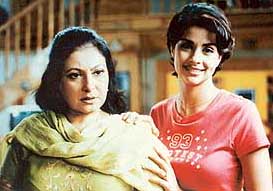 A scene from Kashmeer: Off the air.
There had been haws and hums but no confirmations. Finally, the catís out of the bag. Industry rumours say the slickly made Kashmeer every Thursday at 9 p.m. on Star Plus is off the air because of bureaucratic problems.
Though sources at Star Plus vehemently deny it and say it was planned as a limited-episode series, thereís talk of producers having to show each episode to the powers-that-be before actually putting it on air.
The bureaucrats on their part are said to be defending themselves saying the theme was so sensitive that it needed monitoring, "which cannot be termed as censorship."
The serial revolved around a Hindu and two Muslim families very close to each. Soon enough their paradise is brutally devastated by killings and mayhem and they find themselves in the midst of the twin nightmare of terrorism and hatred.
The gripping serial with a starcast that included heavyweights of the small screen like Farooque Shaikh, Suresh Oberoi, Gul Panag and Nirmal Pandey will be remembered for its engaging storyline and polished performances. A pity it had to leave in such a hurry.
Fat to fit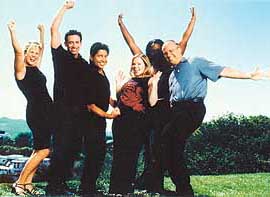 Body Challenge: Burning fat, building muscle.
Hereís a weighty contest no one can miss. Discovery Channel challenges six overweight, out of shape people to switch from fat to fit in Body Challenge, Wednesdays at 1 p.m.
The popular, six-part reality show follows six men and women for 16 weeks as they slim down, adopt healthy eating habits, sculpt their muscle and transform their lives. Two contestants vow to stop smoking as well. The best will win a luxury vacation in Hawaii.
Collectively, they are 115 kilos overweight, but with the help of a personal trainer and dietician they have an opportunity to get on the fast track of fitness. Their physical skills are challenged with each episode ending with The Moment of Truth ó the weighing scale. Thereís also a dossier of achievements, setbacks and weight loss statistics.
Some serious issues are addressed through the series, including the use of diet pills and other so-called miracle weight-loss drugs. Challengers are encouraged not to take short cuts but to draw on resources of sound nutritional and motivation of their trainers.
So if you need to shed a few kilos look no further. Keep your Wednesday afternoons free. The tips are worth their weight in gold ó not calories!
Legal eagles return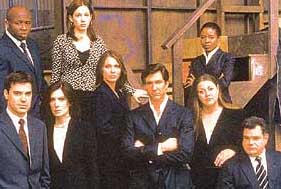 The Practice: New season of courtroom drama.
The multi-award winning legal series The Practice every Wednesday at 10 p.m. on Star World is into its sixth season of courtroom action.
Set in Boston, the series centres on a set of passionate attorneys for whom every case is important and every client worth fighting for. Legal manoeuvring is their modus operandi and they have it down to a science, making even questionable arguments seem convincing.
Though they canít ó and donít ó win every trial, the search for justice remains a priority until the final verdict is announced...and sometimes even afterwards. Pursuing justice, however, often confronts the firm with serious ethical and moral issues of conscience.
The drama continues in story lines that deal with thorny questions regarding legal rights, law-enforcement authority and racial profiling inspired by repercussions from the September 11 attacks. A socially relevant series that is both contemporary and riveting.
ó Mukesh Khosla