That the country's borders are disturbed, that there is corruption in high places, that the crooks always manage to stay a step or two ahead of the legal procedures, that the pace of work in government offices is woefully slow are facts so well known that it does not really require a high-profile retired police officer to spend more than 300 pages on them. The blurb says that Joginder Singh does not hesitate to call a spade a spade, but all his plainspeaking, most of the time, amounts to stating the obvious.
Sukumar Ray: A Legacy of Laughter
by Subhadra Sen Gupta. Rupa & Co. Pages 61. Rs 95.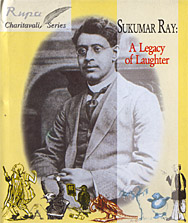 Anyone who has had his early schooling in Bengal, has grown up with the delightfully crazy verses of Abol Tabol that children love to recite. Abol Tabol, the nearest English translation of which can be 'nonsense' or 'gibberish,' came out of the press in a book form a few days after the death of the creator of these verses. These were culled out of various issues of the children's magazine, Sandesh, which Sukumar Ray had been editing. The work has been acclaimed as a book of poetry packed with humour and embellished with funny illustrations. The comic fantasies of Abol Tabol display a special brand of anarchic madness which bears the distinctive stamp of Sukumar Ray and which draws instant response from children. Among his fantastic characters is an old man who survives on boiled wood and can tell you the taste and smell of different kinds of wood. There is the old woman whose rickety house has been put together with spit. There is a singer whose voice echoes from Delhi to Burma and makes animals faint.
His satirical characters include children who have been forbidden from smiling — a dig at the extra-seriousness of the members of Brahmo Samaj —, and an anglophile cow that loves everything English — a depiction of the black sahibs who viewed with contempt anything Indian. In a dig at the laws of the British Government, he describes a land where one can be punished for coughing or sneezing or slipping on the road.
The book says all this and much more about this extraordinary genius who died at a young age of 36 and whose legacy was kept up by his equally illustrious son, Satyajit Ray.
Satyajit Ray: Creating Classics
by Gopa Majumdar. Rupa & Co. Pages 71. Rs 95.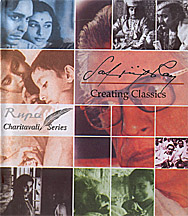 Satyajit Ray was just two when his illustrious father, Sukumar Ray, died. Sandesh, the children's magazine which was so close to Sukumar's heart, had to be wound up three years after his death. The magazine was revived by Satyajit Ray in 1961, more than three decades after it had ceased publication.
Before he could devote his attention to Sandesh, Satyajit, Manik to his family and friends, had made a name in the world of film-making. His Pather Panchali created a new landmark in the world of cinema with its simplicity and honest depiction of the sorrows and joys of real life. He followed it up with Aparajito and Apur Sansar. The three have become famous as the Apu Triology. In many of his films Satyajit worked with children. He made about 10 films with child actors with remarkable success.
Initially, he depended on renowned musicians like Ravi Shankar, Ali Akbar and Vilayat Khan for music in his films. But later, he decided to write the music himself. All his films made after 1961 had the music set by Satyajit himself.
The book tries to describe this genius as a film-maker, as a composer of music, as an editor of a popular children's magazine, as a writer of detective stories and science fiction, and as a graphic artist, and also makes an effort to evaluate his achievements in these fields.
He was awarded the Bharat Ratna and the Oscar for lifetime achievements. The Oscar was presented to him in hospital a few days before his death. He did live to hear about the Bharat Ratna. Satyajit Ray died on April 23, 1992, but he continues to live in the hearts of millions of his admirers.