Cruise's logic for charging such a hefty fee is somewhat curious. "I was offered the sequel of Top Gun for this kind of a fee. If I wanted I could have done five or six sequels. But I didn't. The only thing I understood from that offer was the kind of money I could demand." That sure makes good business sense!
Gay abandon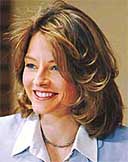 Foster: Queering the pitch
Their pals are wondering why Melanie Griffith and Sharon Stone are so protective about gays. The two have also been favourites of the gay publication Outweek which never tires of singing their praises.
Recently, the two shocked friends like Bruce Willis, Brad Pitt and Sandra Bullock by asking them to boycott the famous ski-slope resort of Aspen in Colorado in protest against the anti-gay laws of the state. And the queer brigade couldn't be happier.
But the activists' ire is on the rise against stars like Jodie Foster whose Silence Of The Lambs featured a gay transvestite serial killer. "We are sick of being shown as child molesters, freaks and mass murderers," says Nichelangel Signorile, editor of Outweek. In fact, members of the organisation, Queer Nation, have threatened to launch an agitation against stars by raising slogans at their shooting venues.
But Foster couldn't be bothered. In her next film Dying To Love the villain again is a gay!
Kylie don't preach
Though Madonna's latest album American Life may have turned gold, Kylie Minoque says she does not want to become like her.
"I want to be provocative. But I'll never tear off my clothes for stardom," she says. Kylie claims to have been turning down offers after her album Fever became a global hit.
"Sometimes I read half the script and chuck it out. I want producers to know I'm not that kind of an actress," Interestingly, despite being hyped as another Madonna because of her revealing stage attire, Kylie says she is usually shocked by the Material Girl's antics.
"Why should such a talented singer have to resort to all this?" she asks, and adds, "Doesn't Madonna realise that by this kind of stuff she is hurting the cause of women?"
Well said, but then, Kylie too doesn't exactly have women's lib in mind when she does those raunchy stage shows.
No love match
The marriage was annulled a decade ago but the acrimony just refuses to die out. Yesteryear's superstar Ryan O'Neal was never able to get over the fact that his daughter and Hollywood's one-time child star Tatum married a preppie snob like John McEnroe.
Though they divorced in 1993, now the tennis ace is calling his former father-in-law an old Irish boozard in his biography, Double Fault. It is a no-holds-barred look at McEnroe's wild ride through the heyday of professional tennis. He talks about his marriage to Tatum, their alleged drug use and why he couldn't stand his father-in-law.
Despite what McEnroe thinks of him, Ryan now says he has no hard feelings. That because he's been devastated by a series of disasters befalling his family. His son, Griffin, has been given one year in a rehab centre for trying to shoot his girlfriend. His first wife Joanna Moore had a horrendous accident in which her left hand got amputated.
Though Ryan may have mellowed, Tatum has taken up cudgels for her dad and hit back, saying that McEnroe was on steroids in most of his glory days. That's a charge which is surely going to hurt. Stay tuned. One's not heard the end of this volley of words.
Bottled up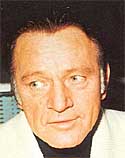 Burton: Pub happy
All through his frenetic life, the late Richard Burton used to joke about his foster father, Philip Burton's love for the bottle. He called him a "12-pints-a-day-man loved rugby, but could never get to a match as there were too many pubs on the way to the ground!"
His invalid grandfather, Burton would joke, was killed when he rammed his wheelchair into a truck while racing out drunk from a pub.
Now, Burton's 86-year-old foster father has decided to write a book to clear the 'clouds of doubt' and talk about his celebrity son's alcoholism.
When a TV interviewer asked Philip about the boozing habits of the actor, the old man shot back, "Whenever people talk about Richard, the first question is about his drunken side. It is disgusting. Drinks never dominated his life."
As the interviewer blinked incredulously, the old man said, "In fact, I saw him drunk only once — from 1952 to 1972!"
— Newsmen Features