Sunday, May 18, 2003
Lead Article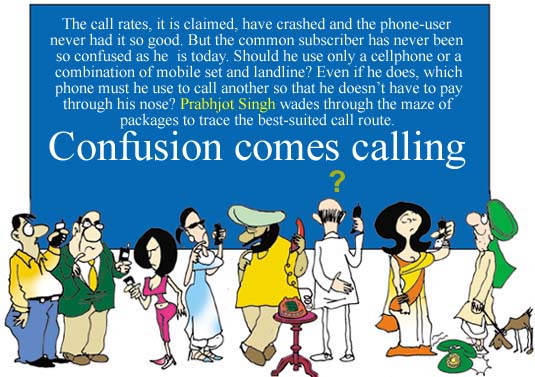 TEN years ago, no one would have imagined that telephone connections will not only be available off the shelf but there will also be multiple choices on offer—cell, satellite, WLL, landline, et al. They will come in attractive pricing packages, often tailor-made for consumers keeping in view the wide range of requirements. Until the early 1980s, a landline connection in India cost the State anything between Rs 30,000 and Rs 40,000. The cost dropped to around Rs 20,000 per connection a few years ago.
Until the early '90s, a landline connection was considered a status symbol. Interestingly, more than 80 per cent of landline subscribers have been only paying bi-monthly rent as they've been unable to exhaust even the free calls' quota. But things started changing in the late '90s, when cell companies entered the fray following the liberalisation of the telecom sector.
BSNL
Best deals for landline connections :
Category
Monthly charges, including rent
Senior Citizens/others who use landline only for receiving calls
Rs 250 + 50
free calls
Common subscriber with limited use
Rs 350 + 150 free calls
For those with more than one connection but medium use, provided they retain one connection and opt for this package
Rs 750 + 600 free calls
For subscribers who make frequent use of the landline and retain one line only
BSNL Super Rs1650+1800 free calls
From the initial high charges of using cellular services when there were just a few providers, the scene has shifted to one of intense competition. Aggressive campaigning to enrol more subscribers, repeated cuts in call rates and other incentives have changed the scenario so dramatically that an individual subscriber is at his wits' end to understand as to whether he should call a cell from a landline or vice versa. Even among cell companies, the rates are so variable that it is difficult, if not impossible, to tell which service is best suited to one's needs.
Thus, it is not easy to say whether subscribers should be loyal to one provider or should they place their faith in two players. In other words, should they have a BSNL landline or a privately run fixed-line operator or switch to a WLL or cellular operator?
The confusion is there chiefly because of the rapid changes in the telecommunication industry with new players joining the fray everyday. In an endeavour to garner the maximum number of customers, the companies offering cellular, WLL or landline connections have been designing their tariff packages to offer the "best deal", leaving the consumer confused. Each new package looks more attractive but in reality it is nothing but old wine in a new bottle.
Extent of coverage

Total landline connections in Punjab Circle
19 lakh*
Total cellular phone connections in Punjab Circle
9 lakh*
Total landline connections in the country
3 crore*
Total cellular connections in the country
1.3 crore*
* approximate
Most subscribers, specially working couples, are debating the wisdom of retaining landlines as they remain unused for most part of the day. For almost the same call cost (plus the cost of the handset), they can opt for a cellular phone, with either a pre-paid or a post-paid tariff plan. With incoming calls becoming totally free, people who mainly receive calls will find the choice of shifting from landline to cellular line a very viable option.
But how many can take such a decision? Many of them may have struggled and waited for years for a landline connection to mature. The BSNL—nee DoT —in spite of its inadequacies, shortcomings and unsatisfactory services, enjoys a certain credibility. It may not be true of other service providers, including the cellular companies, as they have been in the market for a much shorter duration.
Many operators, however, advocate single-operator loyalty. Their argument is based on both the quality of service as well as the cost factor. They say that most of the WLL and cellular companies in the market have recorded unprecedented growth which is far more than the growth of the BSNL and its virtually monopolistic services.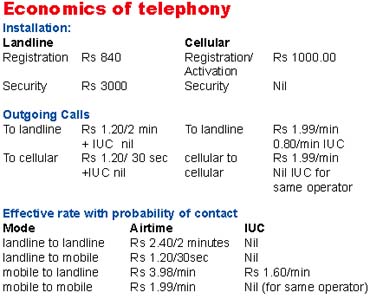 Leaving aside some failures during the initial phases, cellular operators have earned a name for themselves and added credibility to their operations. Only those cellular companies that were either not able to get off to a good start or were unable to meet the requirements of the highly competitive and demanding industry failed during the early rounds. However, a switchover— partial or complete — to cellular telephony is not an easy decision to make for a majority of the people.
"Why should I pay upfront for three years when the rates of WLL or cellular telephony have been crashing? Why not opt for pre-paid cards for the time being and watch which of the new players are able to sustain themselves?," question subscribers. They feel that they should wait and watch which of the players keep on adding value to mobile telephony.
On the other hand, what is equally true is also the fact that of the more than one lakh landline connections in the Chandigarh circle, many may not be required any more. The same may be true of Ludhiana, Patiala, Jalandhar, Amritsar, Ambala, Karnal, Jammu, Shimla, etc as the dependence on landlines has been receding because both the cellular and WLL technologies have made deep inroads in these areas.
Apparently, in this competitive age, with the IUC (interconnect usage charges) regime in place, smaller players providing limited connectivity will face a plethora of difficulties in sustaining themselves. The way cellular companies have slashed their tariffs, mostly at the instance of TRAI, makes the smaller operators easy meat for takeovers.
In February this year, Airtel became the first provider to make the incoming call facility free. Until October last year, the incoming calls were being charged at Rs 2. Earlier, the rate was as heavy as Rs 9 a minute for an outgoing call and Rs 6 a minute for an incoming one. The rates continued to drop as TRAI had given its mandate to make incoming calls free from April 1 this year.
Some of the cellular companies are at present charging Rs 2.99 per minute for an outgoing call and Rs 2 per SMS. The new rates became effective only in the last week of April and they include the IUC.
As far as value-added services are concerned, Airtel became the first company to introduce MMS (multi media messaging) in place of the obsolete SMS (short message service) in February to facilitate transmission of both pictures and sound with messages.
Airtel has also been using 2.5 G network facility to give its subscribers the GPRS to facilitate swifter transmission of data. The 2.5-G technology also provides for a better generation of networking. Airtel claims that it has 17 circles and a pan-India coverage, thus it is able to provide better quality of service. Other companies are using 2-G network, which transmits data at 9 kbps, while the 2.5-G network transmits it at 110 kbps.
In Punjab and Chandigarh, Spice has been the oldest and the most reliable player. Reliance and Cell-one of the BSNL are the other major players in cellular telephony. Hutch is also expected to join soon.
Choosing an economic package, tailor-made to the needs of a consumer, may not be an easy affair. Interestingly, some of the cellular companies provide unlimited free SMS facility for pre-paid subscribers, while it is chargeable, mostly at Rs 2 a message, for the post-paid ones.
Only a few cellular players offer up to 100 SMS free with a corporate package. The pulse rate mostly works out to be the same. If the rent is more then the calls are charged at a lower rate or vice versa.
For a subscriber with moderate use of a cellphone, both for incoming and outgoing calls, a monthly bill of Rs 750 to Rs 900 with an add-on card should work out to be the average. This would include free exchange of two most frequently called numbers. This is after incoming calls, irrespective of the source of their origin, became free from May 1.
This package is considered ideal for a small family with two cellular connections and a landline connection meant for incoming calls only. Thus, for a middle-class nuclear family of four, the best choice would be a landline phone, say of the BSNL (Rs 350 a month), and a carefully chosen cellular phone package (Rs 750 to Rs 950 a month).
The government and the public sector are perhaps in for deeper trouble. With little or no control over the use of landline telephones that they have, unless they go in for new devices to limit the use of their connections, they will incur heftier bills than they have been till now.
Since the IUC regime has come to stay, a senior government functionary wanting to stay in touch with his office or residential official phone will have to fork out a six times higher cost now. Needless to say, government phones are abused the most.
"We have no choice but to go in for software to lock 9, 8 and 3-level numbers. Once this software is installed, no phone can be used for making a call to a cellular, WLL or landline connection of another service provider. This will also prevent the use of a phone for making calls within the circle by using the 95 facility," remarks a senior official of the Wireless and Telecommunication Wing, which controls the phones of the Punjab Police.
The Punjab Police may go in for cellular telephony in a big way by connecting all Station House Officers (SHOs), Subdivisional Deputy Superintendents of Police, all Superintendents of Police, Range Deputy Inspectors-General, Inspectors-General, Additional Directors-General and Directors-General of Police. This package, if approved by the government, will be more economical and efficient besides facilitating better human resource management.