Sunday, May 18, 2003
Lead Article
On the sands of time: 1993
Year of choli ke peechhe...
M. L. Dhawan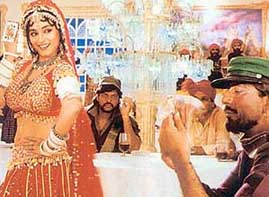 The choli ke peechhe song in Khalnayak set the trend for raunchy item numbers in Hindi films
IN Yash Chopra's Darr, the narcissistic and psychotic Rahul (Shah Rukh Khan) made Kiran's (Juhi Chawla) life a nightmare. As an obsessive lover compulsively craving another man's wife, he was driven to insanity, believing that the woman he loved, loved him too. So possessed was he that he was ready to wipe out anyone who came in the way of his 'possessing' Kiran. He justified his peccadilloes before the imagined presence of his long-dead mother. In the finale, of course, Sunil (Sunny Deol), Kiran's husband, saved his beleaguered wife from the clutches of the psychotic lover.
In Abbas Mastan's Baazigar, Ajay Sharma (Shah Rukh Khan) masqueraded as a Baazigar, gambler, in order to win over Priya (Kajol) and to settle old scores with her father Madan Chopra (Dalip Tahil), who had defrauded Ajay's father and forced his family out on the streets. Ajay seduced Priya's sister Seema (Shilpa Shetty) and killed her by pushing her down a skyscraper. He then changed his identity and committed mayhem and murder without remorse. Ajay paid the unscrupulous Chopra back in the same coin but died in the process. In the dual roles of Rahul and Ajay, Shah Rukh Khan won both the fascination and revulsion of the audience.
In Subhash Ghai's Khalnayak, getting rich was the only aim of Ballu Balram (Sanjay Dutt), the son of a freedom fighter. In his hunger for money, Ballu did illegal jobs for his boss Roshi Mohanta and was caught and incarcerated in the process. When Ballu escaped from prison, the cop Ram (Jackie Shroff) sent his colleague and girlfriend Ganga (Madhuri Dixit) to infiltrate his gang by masquerading as a dancing girl. The song choli ke peechhe kya hai became a rage and set a trend for dirty ditties.