HOROSCOPE
THE TRIBUNE MAGAZINES
On alternate Mondays

On Sundays
On Saturdays
IN PASSING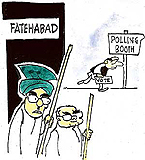 How do we get him to 'caste' his vote in our favour?

by Sandeep Joshi
AKALI UNITY
Badungar offers to quit
Amritsar, May 20
Official residence of Giani Joginder Singh Vedanti Jathedar, Akal Takht is actively humming with due to unity moves between the Shiromani Akali Dal (Badal) and the Sarb Hind Shiromani Akali Dal (SHSAD) even as SGPC chief Kirpal Singh Badungar, Mr Kuldip Singh Wadala, president SAD (Democratic) and Dal Khalsa leaders held separate closed-door meetings with the Jathedar of Akal Takht.

Punjab page: Akali unity 'before panchayat poll'
DMK ex-minister murdered
Madurai, May 20
Former Tamil Nadu Highways Minister in the previous DMK regime and three-time Member of Parliament T Kiruttinan was found murdered near his home while returning from the morning walk.

In video (28k, 56k)

Curfew-like conditions in Fatehabad
1.50 lakh voters to exercise franchise today
Fatehabad, May 20
About 1.50 lakh voters of the Fatehabad Assembly constituency will exercise their right to franchise under curfew-like conditions tomorrow.
PM not in favour of hiking MP's fund
Lucknow, May 20
Prime Minister Atal Bihari Vajpayee today said that he did not favour hiking the MP's Development Fund from Rs 2 crore to Rs 3 crore as demanded by the Parliamentarians.


Mother alleges emotional blackmail
Says R.K. Sharma made her sign blank papers
Panchkula, May 20
The domestic feud between the wife and mother of former IG of the Haryana police and accused in the Shivani Bhatnagar murder case, Ravi Kant Sharma, reached a boiling point with the cop's mother, Mrs Kamla Sharma, accusing her son's family of siphoning off her money.

Mrs Kamla Sharma, mother of Ravi Kant Sharma, makes a point at a press conference at Mani Majra on Tuesday. — A Tribune photograph

In Health Tribune today
6 of family massacred
May 20, 2003

Reshuffle in offing: PM
May 19, 2003

Mayawati sacks Tripathi
May 18, 2003

Change views on terror, Advani asks Pak
May 17, 2003

Burning train claims 38 lives
May 16, 2003

US to put pressure on Pak
May 15, 2003

29 killed in Saudi bombings
May 14, 2003

Mufti for 'softening' of LoC
May 13, 2003

13 die in Bengal poll violence
May 12, 2003

Terror must end, India tells US
May 11, 2003