Thursday, May 22, 2003, Chandigarh, India



B U S I N E S S
Maruti records 40 pc growth in net
New Delhi, May 21
The country's leading car maker, Maruti Udyog Limited today said it has recorded Rs 282.1 crore profit before tax in 2002-03. This marks a growth of 138.4 per cent over profit before tax of Rs 118.3 crore in 2001-02.
BSNL employees' fate hangs in balance
Chandigarh, May 21
The fate of over 65,000 employees of BSNL in the Class B and above category is hanging in the balance as the Centre has so far not worked out the modalities of their transfer from the Department of Telecom to BSNL, though it was corporatised in September, 2000.
Judgement on WLL case reserved
New Delhi, May 21
With both basic and cellular operators concluding their arguments, the telecom tribunal today reserved its judgement on the WLL case, in which the cellular companies have challenged the government's decision to allow fixed operators to offer the limited mobility services.
HPCL cuts Bathinda refinery capacity
New Delhi, May 21
HPCL has scaled down capacity of its grassroots refinery at Bathinda from 9 to 6 million tonnes to ensure its viability. "We will set up a 6 million tonne refinery at Bathinda in the first phase by December, 2006," HPCL Chairman and Managing Director M.B. Lal told PTI here.
Tobacco-free products to hit market
New Delhi, May 21
For die-hard smokers who desperately want to quit smoking, newly-launched Dalmiya Consumer Care (DCC) will roll out indigenously-developed tobacco-free products in July.


| | |
| --- | --- |
| | A money changer counts US dollars in Mumbai on Wednesday. The Indian rupee swung widely on Wednesday because of a workers strike which kept most market-making state banks away. — Reuters |
Real estate market to remain stable
New Delhi, May 21
The real estate market in country is expected to remain stable in the coming months with NRI investments expected to show positive trends, said Cushman and Wakefield, a leading real estate analyst firm.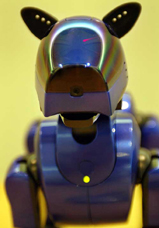 A cobalt-blue Sony Aibo Cyber-Blue entertainment robot takes photographs through a CMOS image sensor on the tip of its muzzle, in Tokyo, on Wednesday. A new software application, Aibo Eyes, which can be used to control the four-legged robot remotely via e-mail commands will go on sale in Japan from May 31 for 13,000 yen (about $112), with which users can send an e-mail message to the robot and receive a JPEG image shot by Aibo with their computer or other mobile communication devices.
— Reuters

Haryana to cut tax on tyres to 8 pc
May 21, 2003
Electronics exports grow 28 per cent
May 20, 2003
Educate people on consumer rights
May 19, 2003
Telecom price war at new high
May 18, 2003
Investment in Asia pegged at $ 68b
May 17, 2003
BSNL intensifies tariff war, launches new plan
May 16, 2003
Maruti, Telco sales in top gear
May 15, 2003
BSNL, MTNL roll back tariffs partially
May 14, 2003
Decision on EPF rate by month-end
May 13, 2003
Indecision on EPF: workers may suffer losses
May 12, 2003