Sunday, May 25, 2003
Books
Re-enacting scenes from a grim human drama
Nishi Malhotra
Sita's Curse: Stories of Dowry Victims
by Seema Sirohi. HarperCollins. Pages 292. Rs 295.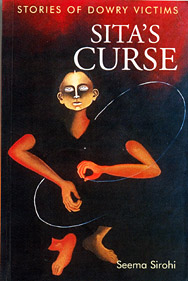 "DOWRY deaths became more common during the 1990s, ironically a decade that created a sense of progress for women`85Gains were made but the problems facing women did not lessen proportionately. Every major crime against women recorded a rise—rape, molestation, domestic abuse, trafficking, kidnapping, sexual harassment."
But more than that, says the author of Sita's Curse: Stories of Dowry Victims, along with this "came an uneasy sense of acceptance—it happens—not among women activists but society at large. It settled like smog over the nation's consciousness, absorbing the outrage. New crimes were rationalized by the old idea of fate."
Continuing into the 21st century, "the backlash against feminist ideology" has come from both the establishment and the media. India today is "energised in equal part by machismo, market and a new found masti of the soft drink culture and it rarely acknowledges ugly social problems," writes Seema Sirohi.
Seema's journalistic skills have been honed for almost 20 years, during which her assignments took her to the Golden Temple in 1984, the war in Sri Lanka, several years in Washington DC as a correspondent for the Telegraph, as well as reporting from Eastern Europe and the UN headquarters. She spent three years researching Sita's Curse and the effort shows clearly in her first book. Her sweep of knowledge is breathtaking, her perspective sound, and her ability to communicate her thoughts to the readers commendable.