Funny food

Bhatti (centre) in Dhaaba Junction: Highway fun
Two men, two dhabas and lots of pangaas! That in short sums up Sab TVís Dhaaba Junction every Monday and Tuesday at 9 p.m.
The irrepressible Jaspal Bhatti plays dhaaba owner Lahori whose dream is to ensure that people who park in his parking lot should not go to eat at Kartarís dhaaba next door.
Lahoriís life is both complex and tragic. His wife Jeeto swears by rival Kartarís cooking. His daughter Preeto has her eye on Kartarís younger brother Rajinder, whose sole ambition is to become a taxi driver in Canada.
Adding to the confusion is Lahoriís 10-year-old son Mintoo, an ally of the puncturewala Subbu. For some odd reason, the time you pass the shop, you suddenly have a flat tyre!
Care to be part of this madness. If yes, tune into Dhaaba Junction and find out why Sab TV is fast becoming an All Smiles And No Tears channel.
Care for gilli danda?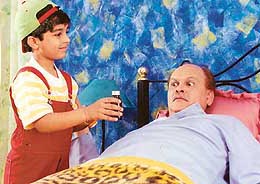 Scene from Gilli Danda: Games children play
This surely is a season of comedies as channels vie with each other to tickle the funny bone. With Sab TV providing the laughs with Dhaaba Junction Sahara brings out Gilli Danda Thursday to Saturday at 7 p.m. for a half hour of mirth.
Directed by Sachin Pilgaonkar, Gilli Danda is a treat for viewers of all ages. The comedy spins around a young kid Gulshan, aka Gilli and his retired neigbhour Mr Danda.
Drawing from the popular game of Gilli Danda, the serial attempts to explore the innocent mind of children living in a world of adults.
Active, agile, tireless, and hard-to-catch, Gilli is a handful for Danda uncle. His attempts to help people out frequently usually end up in hilarious situations!
The gentle comedy may not have you rolling over with laughter. But it will certainly draw a smile ó a hallmark of all of Sachinís sitcoms.
Beyond cliched images
Rajasthan contains some of Indiaís most colourful scenery. Camel races and elephant processions, pilgrims and merchants, gem cutters and stone masons ó all contribute to the regionís unique culture and sights.
On May 31, at 9 p.m. Discovery Channelís Discover India travels to Rajasthan and portrays modern and contemporary life in this desert state. The programme visits markets, which sell everything from spices to saris, profiles the architecture and arts of three different religions, and provides a close-up view of the friendly people here.
The Discover India series is showcasing fascinating sides of India not often told. For example, some ancient Southern temples unvisited by western tourists are so large that Americaís Senate building, Versailles in France, the British Houses of Parliament and St Paulís in Rome could all be easily accommodated within a single temple!
Then there are shows on the Indian wildlife, the Himalayas as also a full-length feature on Delhi, one of the grandest cities of the world. So, even if you are not an Indophile, you will find this series eminently absorbing and watchable.
One for toonheads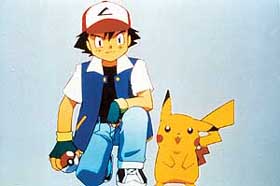 Ash & Pokemon: Adventure land
Having captured the imagination of children across 45 countries, Pokemon is now all set to enthrall young Indian viewers Mondays to Fridays at 8 a.m. with a repeat at 5 p.m. on Cartoon Network.
Pokemon, a unique creature is a hybrid of different animals. The series spins around the adventures of Ash Ketchum, the young hero who embarks on a perilous journey with Pokemon helping him beat incredible odds and making seemingly impossible things happen!
A part of Ashís adventure is to save his precious Pokemon from the infamous Team Rocket, that wants to capture if for its special powers and will do anything to help achieve its diabolical plan of total domination!
Will the plan work or will Pokemon save the world? Watch the fun start rolling in in this kiddie animated series.
Escape from terror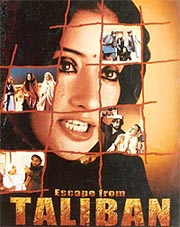 Escape From Taliban:
Reliving a horror
It may not have had a big impact on the box office but coming around the time of the US-led attack on Afghanistan, the timing of Ujjal Chaterjeeís Escape From Taliban was impeccable.
In case you missed the film ó one of the first to tell a story within the context of the Afghan tyrannical society, you can now view it on May 29 at 8 p.m. on Zee TV.
The true-life narrative is based on the first-hand accounts of a Bengali woman Sushmita Banerjee (recorded in a book Kabuliwalaís Bengali Wife) who fled from Afghanistan in 1995. This film follows the journey of the woman (played by Manisha Koirala) who marries an Afghani (Nawab Khan).
Once in Afghanistan, she realises how disturbing the state of affairs is in her husbandís country and decides to go back to India. But thatís easier said than done.
How she manages to escape the clutches of her psychopath in-laws and Taliban officers forms the crux of this gripping drama.
ó Mukesh Khosla