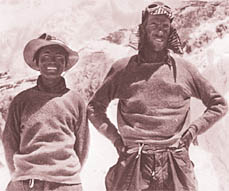 Rising to the occasion; Tenzing & Hillary
This came as news to the Tibetan locals who lived beneath the highest and called the snowy peak Chomolungma or "the Goddess Mother of the World". Nor did they understand the motives of the British men who, by the 1880s, began to arrive to climb the place they believed to be the home of the gods and therefore out of limits to mere mortals.
But, having measured and named Mount Everest, the British were determined to literally stamp their authority on it. Indeed, climbing expeditions multiplied with every season as the race was who would become the first to conquer the summit.
Everest is the most unforgiving of mountains, pitted with hidden crevasses, and prone to avalanches and unpredictable storms that can last weeks. What's more, once climbers pass 2,400 metres, they are vulnerable to altitude sickness that can hinder their reactions and cloud their judgement. Beyond 7,600 metres and into the "death zone", they are in danger of oxygen deprivation as the percentage of oxygen in the air plummets and to compensate, their breathing and heart rate increases.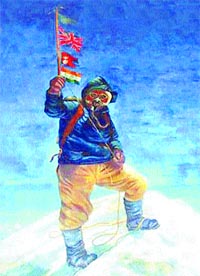 A painting of Tenzing on Mt Everest
Any exertion, whether making a cup of tea or climbing into a sleeping bag can leave climbers exhausted. Blood thickens, increasing the risk of blood clots and strokes; insomnia sets in; and loss of a petite is common just at the very point when climbers most need to stay nourished and hydrated. In 1921, the Royal Geographical Society sent a team to explore and identify would-be routes to the summit without any co-ordination of equipment or gear. Each climber was free to chose his own clothes and footwear, yet the team somehow managed to reach 6,700 metres before the icy cold and wind of the Himalayan autumn forced their retreat.
A year later, a better-equipped expedition using oxygen at high altitude reached 8,320 metres before wind turned them back. Sadly, on June 7, during a second attempt, an avalanche struck four rop parties, killing seven of the local Sherpas who had already become indispensable as porters and advisors to the British climbers. They were the first-recorded climbing fatalities on Everest, but would not be the last.
In 1924, the Royal Geographic Society launched another attempt to climb Everest with a team that included George Mallory, a veteran of both previous expeditions, who, when asked why he was so desperate to climb the peak, had famously answered, "because it's there".
Now, aware that the entire climb had to be planned in a meticulous manner and executed carefully, the team set up three camps between 7,750 and 8,300 metres, and decided to make two simultaneous attempts at the final ascent.
On June 8, Mallory and his climbing companion Andrew Irvine (Because he knew how to work the oxygen equipment) set off for the summit with photographer Noel Odell and two Sherpa following some distance behind them.
Later that day, as the sky cleared, Odell looked up toward the first peak and saw a dark dot moving across the snow, then a second. He kept watching the ridge and wall for a long time but could not spot them again. The next day, with the help of oxygen, Odell continued up to the highest tent where he hoped to find a victorious Mallory and Irvine. But the tent was empty and his whistles and yodels went unanswered. No one will ever know whether the pair succeeded in reaching the summit of Everest, only that they did not return. It was another nine years before a new Everest Committee was formed in order to try again, but it too failed. In 1993, Francis Sydney Smythe came within 300 metres of the summit before exhaustion and hallucinations forced him to descent and rejoin the rest of his climbing party.
A year later, Maurice Wilson, an eccentric former officer in the British Army, attempted to climb Everest alone. His body was found the following spring at 6,400 metres, near a food depot abandoned in 1993 expedition.
Again and again, new routes were mapped out and attempts were made to scale the peak — to end in failure or tragedy.
However, by 1953, when Edmund Hillary set out with the rest of the British team, much had changed. Led by Colonel John Hunt, who had studied every previous assault on the mountain and prevailing weather conditions, the climbers were dressed in high-altitude nylon weatherproof clothing. They were also equipped with lightweight oxygen for the final ascent.
Shrewdly, Hunt also rotated his climbers, and, once they neared the peak, sent on the strongest to make the final assault. After an earlier pair had been forced to retire just 300 feet short of the summit, Hillary and Tenzing Norgay, recognised as the fittest in team, were chosen for the last attempt.
"We didn't know if it was humanly possible to reach the top of Mt Everest, recalls Hillary. "And even using oxygen as we were, if did get to the top, we weren't at all sure whether we wouldn't be dead or something of that nature."
After an uncomfortable night, they left the last camp at South C the freezing chill dawn of May 29, 1953. Five hours later, at 11.30 am, Hillary and Tenzing stepped on to the summit. Their first task was to scan the peak for signs of George Mallory and Andrew Irvine. Failing to discover any evidence that they had been beaten, the pair then spent 15 minutes taking photographs and eating mint cake, before making Buddhist offerings of sweets and biscuits and planting the flags of Britain, Nepal and the United Nations in the snow.
The 1953 conquest did not put a cap on Everest expeditions. Sad many others have tried to follow in Hillary and Norgay's footsteps only to stumble or fall. Of the 4,000 or so people who tackled the mountain, only 660 have succeeded, while more than 140 have died trying.
On one single day in 1996, eight climbers died during a private climbing expedition. One of the survivors, Beck Weathers, a doctor from Dallas, Texas, lost his nose, his right hand and part of his arm, and the fingers on his left hand to frostbite.
For the most part, Chomolungma remains the territory of the gods. AF