M A I N N E W S
74 killed in plane crash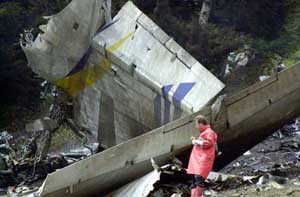 A Turkish rescue worker stands near the wreckage of a Ukrainian Yak-42 plane crashed near Turkey's Black Sea city of Trabzon on Monday. — Reuters photo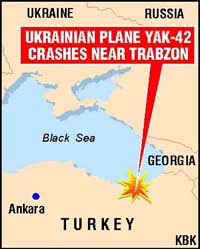 Trabzon, Turkey, May 26
A plane crashed in thick fog today in northwestern Turkey, killing all 62 Spanish soldiers and 12 crew members aboard.
Local officials told Turkish broadcaster NTV there were no survivors and they were extracting bodies from the charred wreckage, near the Black Sea coastal city of Trabzon.
The Ukrainian plane, carrying military personnel serving in Afghanistan, took off from Bishkek in the Central Asian republic of Kyrgyzstan on its way to Spain, the Turkish news agency Anadolu reported.
Just before a planned refuelling stop in Trabzon, the plane disappeared from radar screens and crashed, the news agency said.
Local reports quoted officials as saying that visibility was less than 10 metres at the time of the accident and the pilot tried landing three times, crashing on the third attempt. DPA