Doubly comic
Itís a lethal combination of the Dekh Bhai Dekh team. The difference here being that director Anand Mahendroo teams up with not one but two Shekhar Sumans.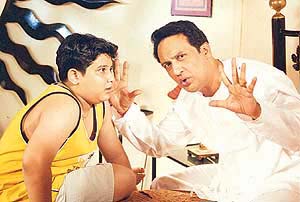 Bade Miyaa Chhote Miyaa: Suman & Suman
In Bade Miyaa Chhote Miyaa ó Mondays and Tuesdays at 8.30 pm on Sab TV ó the stand-up comic plays the double role of twins born five minutes apart. The serial is based on sibling rivalry of the nutty kind.
Elder twin Rajesh is completely dysfunctional and firmly believes the entire world is against him. The story is told from his point of view as he feels that he does not get the respect he deserves for being elder by five minutes. Though irascible, irritating and impossible to deal with, he has a loving and indulgent family.
The serial experiments with a style that has the principal character talking to the audience presenting his point of view with cutbacks to family scenes, which almost always reveal exactly the opposite of what he says!
The crackpot comedy is entirely in the characterisations, relationships and situations that have been created. And thereís plenty to laugh about as Suman essays a controlled performance thatís a treat to watch.
Comic Sunday
Londonís Daily Mail called it "the funniest show on TV. A brilliant series." The Times described it as "a triumph, a truly witty show." Now Goodness Gracious Me, the ground-breaking BBC2 TV series that has regaled millions worldwide, has come to tickle the funny bone of Indians every Sunday at 9 pm on Star World.
The series cocks a snook at the British and Asian cultures and everything in between. It captures the imagination of viewers with deftly drawn sketches ó made up of four main actors: Meera Syal, Sanjeev Bhaskhar, Kulvinder Ghir and Nina Wadia.
Among the many characters featured in the series, are the wannabe-English ĎCooperí family (spelt Kapoor), the Rs 6-million man and the character who believes that every feat of human courage has been performed in India by an Indian. Though some of the sequences may be lost due to their British nuances, the series is still a scream.
So get set to tingle your funny bone with episodes like Going For An English and sing along to profound words of wisdom with Fifty Ways to Leave Your Mother. Hilarious and irreverent, Goodness Gracious Me will make you laugh till it hurts.
Crowning glory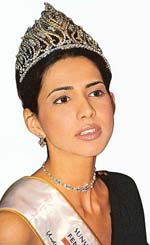 Nikita Anand: Universal appeal
She is young, beautiful and vivacious. Meet Miss India-Universe Nikita Anand, all set to bring home the international crown in the tradition of Sushmita Sen and Lara Dutta. "I have many plans, many dreams. But right now I am just concentrating on the Miss Universe title as I want to give it my best shot."
Watch her at her best on the all-important night on Zee English, which will telecast the Miss Universe live from Panama City on Wednesday, June 4 at 7.30 am, with a repeat in the evening at 8.30 pm.
The channel will also air a special curtain raiser on Sunday, June 1 at 9 pm. This will include interviews with Nikita Anandís clothesí designer, dietician, family, friends and others who have come in contact with her.
The Jalandhar-based Nikita, who was studying fashion technology at NIFT before entering the beauty pageant, credits her parents for her achievement. "The Miss India Universe title has changed my life forever. I still havenít been able to get over what Iachieved," says Nikita, looking determined to win the pageant hands down.
Chunky chucks TV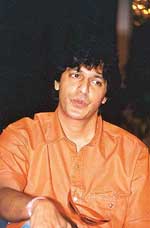 Pandey: Back in films
"Yahoo! I am back where I belong," bellows Chunky Pandey, gearing up for his second innings in movies after a six-year hiatus. And itís goodbye to television. As a Bollywood discard, he did a number of TV shows that included Superstars on DD Metro and Lootmaar on Sab TV. But before he could take on more projects that were on offer, Bollywood starting wooing him back again.
He says he has no regrets jettisoning his TV plans. "It was a wonderful experience and helped me explore another medium. But sorry, itís goodbye to the small screen. Iíll focus only on films as Iíve got to prove my mettle."
Very few people know that when he was doing TV shows he was also busy proving his mettle in ó of all the places ó Bangladesh. He did eight Bangladeshi films, including monster hits like Shami Keno Ashami and Prem Kurerchi Paes Kurerchi.
Now, he has a chance to repeat his Bangla success in Mumbai with a long list of films like Yahoo, Mumbai Se Aaya Mera Dost, Qaymat, Fresh Lime and Shor. With his first release Yahoo, he is hoping to repeat the magic of the nineties chartbuster Aankhen.
"This is going to be one successful comeback," says the star and his logic is touchingly simple, "If Bachchan can make a comeback to films via the TV route, why canít I?".
Catching the blues
Itís been around for eight years and has won a bagful of awards, yet, the appeal of NYPD Blue, Thursday 10 pm on Star World, has not faded. Now the crime series goes into its ninth season with its popularity firmly in place.
Set against the gritty and volatile backdrop of New York City, NYPD Blue powerfully portrays realistic characters devoting themselves to the pursuit of justice while struggling to maintain an ever-elusive sense of humanity.
Four-time Emmy Award-winner Dennis Franz plays detective Andy Sipowicz. A widower raising his elementary-school-aged son, Theo, Sipowicz has battled his share of demons, including alcoholism, divorce and loss of loved ones.
Sipowicz has also borne the unique challenges of being a detective in New York City. This year, novice cop Mark-Paul Gosselaar becomes Sipowiczís new partner, replacing detective Danny Sorenson (Rick Schroder), who mysteriously disappeared last season.
Further complicating matters is the fact that the new copís father is a hardboiled detective in the Bronx, who was once Sipowiczís arch rival and who is furious that his son is paired with his old nemesis. Watch the rivalries flare up even as the show goes on a hyperdrive to fight crime and criminals.
ó Mukesh Khosla