Monday, June 2, 2003
Feature
Cell weds PDA
Roopinder Singh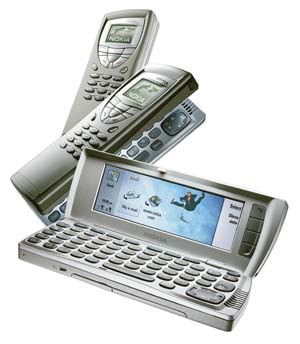 IT looks like a pencil box, but you can only say so at the risk of incurring grave displeasure of the owner. Those who just have to have it canít wait to get their hands on the latest gizmos, in this case the cellphone/PDA (personal digital assistant) combo, are rather excited by it. Some have it, others do not. Among the haves in Chandigarh is Trilochan Singh Anand, who uses a Nokia 9210i.
Now Trilochan is a veteran gadget aficionadoómaybe it has to do with his IIT background. He started off with a digital diary in the 80s. That was a Casio, which had its uses and was quite snazzy for its time, but eventually it was replaced with a Palm V, one of the most popular and easy to use personal digital assistants.
But you had to carry the Palm and a cellphone in your pocket, and eventually, you wanted an integrated gadget, which is where the new kind of phones come in. They have been around for a while, but now these gadgets are making an impact even in the region.
Arranged marriage
It is actually an arranged marriage. Both the cellphones and PDAs have mutually combatable and incompatible features, and when they are forced to come together by the force of circumstances, they strive to make the best match possible. You tend to lose some and win some.
A good mobile phone should be small, and its dialling pad should have raised keys for dialling convenience. A small phone means a tiny screen, which is tolerable only if the phone is going to display names and numbers.
On the other hand, the first thing that you demand in a good PDA is that it must have a good-sized screen. At least a Palm V screen is definitely four times the screen of a typical mobile. This makes it bulkier, but you have different expectations from it.
Various manufacturers have different ways to tackling the situation, some add a PDA to their cellphone, others build in a mobile phone into their PDA.
Formidable machine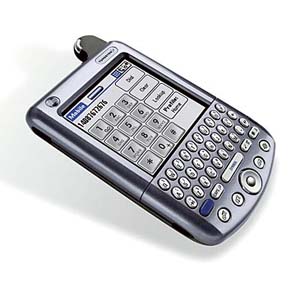 The phone that Trilochan uses, is a example of the former. It is a Nokia 9210i, which runs on Symbian OS. It is a formidable piece of hardware. It is dual band: EGSM 900/1800;32-bit ARM9-based RISC central processing unit with data speed up to 43.2 kilobits per second (HSCSD) It has features that include desk application; messaging includes SMS, fax, and email; Internet (Web and WAP); contacts, calendar and an office including word processor, spreadsheet, presentation viewer, and file manager
Even when it has regular features of a cellphone, you can use it more than a PDA. It allows you to exchange data with your laptop and a lot of persons use it when they do not want to be bothered with opening their laptop for working while on the move.
E-mail? No problem. It supports common protocols like POP3, IMAP4, SMTP (SSL, TLS). With a total memory of 40 MB (the size of the HDD on my first Mac SE) and an application memory of 16 MB. It can be upgraded with a 64 MB memory card.
Trilochan says while overall he is, happy with his communicator he misses the user-friendliness of the Palm. "Even cut and paste is difficult," he says and adds that he liked the intuitive way in which calendar entries were compressed even if the timing was far apart, so that you did not have to scroll down the screen. At the same time, he really appreciates the speakerphone function and also the ability to record sound and the good size of the QWERT keyboard.
How did Trilochan transfer the data from his Palm V to the phone? He exported it to Outlook Express on his laptop and used that to forward it to the Nokia communicator. Loss of data? None.
PDAs that are cellphones also
The other route to integrate the two has been taken, not surprisingly by Palm which has its W (for wireless) series the latest being Palm Tungsten W. These are basically Palms that have capabilities of being cellphones. Thus they are similar in shape and size with the Palms that we see. All Palms run on Palm OS, which is one of the better-known and reliable operating systems in the PDA world.
Jyoti Singh, whose husband is a globetrotter and a gadget freak, is exposed to this genre, but says she prefers the Communicator, because her friends are always on it. "What I love about it is the ease with which I can compose and send my SMS messages, using the QWERT keyboard," says she.
Palm has competition from Handspring Treo and the Samsung i330 both of which use the Palm OS. On the whole they havenít made much of an impact in the Indian market, but who knows about the future.
Back to two devices?
Karan Vir Singh, a Delhi-based businessman, says that he has been using various kinds of combos for the last four years.
"Nowadays, I just donít carry my notebook when I travel, but still I find it inconvenient to use these gadgets, since they are very bulk, not something I like carrying if I am going out socially in the evening, or playing golf, which I love."
Karan also uses a 9210i right now, but he has been through many phones, and still misses the 9110, which he feels has a more stable OS. For his next phone, he is considering Palm Tungsten tri-band GSM, and is exploring the possibility of carrying two gadgets, a phone with good voice and modem capabilities, and Bluetooth connectivity, so that he can use a Compaq I-Paq with it.
Till now we have been looking at the GSM phones. With CDMA coming in, there will be phones that will exploit the higher throughput on such networks, and even more possibilities to consider. Whether is it this or that configuration, there is no doubt there the demands of mobile users are increasing and they expect a "do-all" gadget. Says Jyoti: "I would love it if I had a sleek, communicator-like gadget with a touch screen. I hate punching the buttons with my long finger-nails, but I find them sleeker." Grass is always greener on the other side, isnít it?